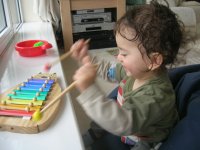 9月の下旬にアラタはお兄ちゃんになる。現在、第二子を妊娠中で19週と数日。3月中旬に受けたダウン症チェック(確率)の結果が思わしくなかったため、羊水検査(答えがはっきり出る)を受け、その結果が今週初めに出て安心したため、公にすることに。


一部の友人にしか話していなかった。芸能人ではあるまいし、隠すこともなかったのだけれど、結果次第では説明が面倒くさそうだったし、何しろ、産休から職場復帰したばかりで、それも初めに与えられた仕事に文句を言った経緯もあって、会社にはなかなか言い出しにくかった。早くも妊娠半ばなので、知ってる人から見たらお腹のふくらみでわかるだろうが、来週からは堂々とニンプ服を着て出社だ。


予定日は9月26日。帝王切開後、一年間は妊娠を控えるようにとのことだったけれど、年齢的にも早く次がほしかったので、私たちにとっては最短距離。そして、アラタの「弟」であることも判明。私はなんとなく男の子の方が得意なので、まあ、いいのだが、Jasonは弟と二人兄弟で妹がほしかったから、第二子には女の子を望んでいた。でも、ラムニー家の血筋が男家系に違いないわ…。


高齢出産といえば芸能人に多いけれど、私の好きな『ロッキーホラーショー』の映画版のジャネット役(ここ数年の活躍の方がめざましいがあえて…)をした、女優のスーザン・サランドンは39歳で初産、現在は3人の母親。アラタを妊娠した時から「めざせスーザン・サランドン!」って言っている私。女の子がほしいから、もう一人行くか~。ちょっと、気が早い?


The baby number 2 is on his way. I am now 19 week pregnant. At last, I broke the news to my boss yesterday.


Well, I delayed the timing to tell the news to lots of people because the results of the down syndrome screening was not good and I waited till the Amniocentesis results, I took the test last week, came out. On top of that, I was reluctant to tell my work about another possible maternity leave just after I went back to work from a year break, especially after I complained the assigned tasks were too boring. Anyway, I am now officially pregnant and I will wear maternity clothes from next week!


The baby is due on 26/09/2006. After C-section with Arata, I was told to wait at least for another year to get pregnant. So luckily there was no time loss. I became pregnant again just after Arata's 1st birthday. And it's going to be another boy. Personally, I always feel I am better at boys. Jason was hoping to have a girl as he'd wanted to have a sister, he has a younger brother, but I reckon it's Jason's gene. The Rumney are male dominate family, probably.


People in showbiz often start their family late. Susan Sarandon, 'Janet' in my favourite "Rocky Horror Picture Show" - she is more successful in the recent years but anyway, had her first child when she was 39 and now a mother of 3. Since I got pregnant with Arata, I've said "I will follow Susan!" Shall we try another one hopefully for a girl? Yes, of course, it's too early to say!