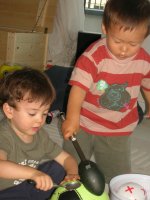 昨日はWappingであきらくんとまいあちゃんに久しぶりに会う。Wokingの友達は同年齢の子供ばかりなので、1才年上の二人に囲まれたアラタを観察するのは興味深かった。いつもはおもちゃの取り合いでも負けないアラタだけれども、あきらくんにはさすがにかなわない。うゎ~~~んと大声で泣き出したかと思ったら、両手であきらくんの顔を叩いて、頭をつかんだ。大人だったら、次の動作は頭突きだ。その思いがよぎった瞬間、慌ててアラタを止めに入る。かなりナーサリーで鍛えられているとみた。


中華で夕食を食べ終わる頃には打ち解けてきて、二人でターンテーブルを回して遊び始める。それまでは別々に遊んでいるだけで、目を合わせるといえば、おもちゃをめぐってお互い眼をつける時ぐらいだったのに、キャッキャッいいながら楽しそう。


今日は顔馴染みのトーマとニコニコしながらインターラクト。ほとんど一緒に同じことをして遊んだ。「トーマ、バイバイ!」とバルコニーにいるトーマに手を振り、お鍋にボールを入れてスプーンで叩いているトーマを見て「トーマ、クッキング!」トーマになら、おもちゃも分けて上げられる。昨日も今日も、実は、私はびっくり。知らない間に他の子供との遊び方が進化しているからだ。こうやって、ママとより、友達と遊ぶ方が楽しいってことに気づいていくのかな。


We went to Wapping yesterday to see Shinobu and Noriko. Their children Akira and Maia are about 1 year older than Arata and it was quite interesting to watch how Arata interacts with them, as his friends in Woking are more or less about the same age. Arata always plays cool when it comes to keeping toys in his hands, because he never loses the fights, but of course, it wasn't that easy with Akira. Arata soon started to cry. But it was the next moment which was quite shocking to me. Arata decided to slap Akira's head with both hands and grabbed his hair. If it'd been adult, the next action would be definitely a head butt. When this idea came across my mind, I rushed to stop Arata. I think Arata has been 'trained' a lot at nursery.


To my relief, when we finished dinner at a Chinese restaurant, they were more relaxed and started to play together by turning a Chinese turn table. Until then, they'd only had eye contacts over toys but that time, they were laughing and looking at each other.


Today, Arata was interacting with Thoma very well. When I said that Thoma is coming, he started to say 'Thoma! Thoma!' And from the beginning, Arata was smiling and talking to Thoma and they were playing together most of the time. Arata said, 'Thoma bye-bye!' when Thoma was in the balcony but Arata was inside, and 'Thoma cooking!' when Thoma was banging a ball in a pot. To be honest, I was quite amazed by Arata's reactions in the last couple of days. His way of interacting with other children have definitely improved. Gradually, he will learn that it will be more fun to play with friends rather than mummy or daddy...?