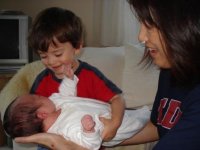 同じ両親からうまれたのに、こんなにも違うのね。この3週間で気がついたこと。アラタと比べてタカラは…。


「でかい」New Bornサイズのスリープスーツは生後すぐにきつくなり、Size1のオムツも買い過ぎた。

「直毛」髪が濡れるとウエーブがかかっていたのはアラタ。

「丸顔」誰に似たんだろう…、アラタは比較的面長。

「パパに似ているパーツは目」Jasonに似ているのは、目。アラタは、口、大きい手、爪の形、長いまつげがパパ似。

「ママに似ているパーツは口」私に似ているのは、おちょぼ口、小さい手、爪の形。アラタの目はママ似。

「よく寝る」ほとんど一日中寝ている。アラタはもっと起きていたなあ。

「太い声」アラタは高音、タカラは低音。



じゃあ、いったい何が似ているのかしら?


I didn't realise that brothers and sisters are all so different. Compared to Arata, Takara...


"is bigger" - 'New born' size became too tight soon after his birth. We bought too many size 1 nappies as well!

"has straight hair" - When it was wet, Arata's hair was wavy.

"has round face" - Who does he take it after?

"has the same..." - eyes as Jason. Arata's mouth, big hands, the shape of the nails and long eye lashes are from Jason.

"has the same..." - small mouth and hands, and the shape of the nails as me. Arata's eyes are mine.

"sleeps longer" - Takara sleeps most of the day. Arata was awake much much longer.

"low voice" - Arata's voice is very high!



Well, what parts are the same between Arata and Takara, then??