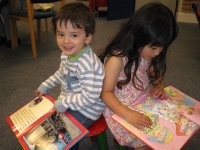 アラタの時も「もどき」はあったけど、こんなに痛くなった事はないのよ・・・。これって乳腺炎かしら。


水曜日の夜、アラタカラ抜きで外出。帰ってくるまでに胸はパンパン。実は、先週末、タカラは熱を出した。夜中に何回も起きておっぱいを上げたので、私の胸は「母乳をたくさん作れ!」という刺激を受けてしまったらしい。そんな時に外出で母乳を溜めたのがいけなかった?あるいは、タカラの熱の原因菌が乳腺に入った??


夜遊びから帰ってきて、200MLほど搾乳すると、爆発しそうな痛みは収まったけど、ワインのせいか、とにかく全然眠れない。朝起きると38C近い熱。左胸は、乳腺が詰まっているわけでもないのに、痛い。ポンプで空になるまで搾乳して少し落ち着くが、熱が下がらないのでパラセテモを飲んで早くに寝た。


タカラがおっぱいに吸い付こうとする度に、激痛が走る。「キャー」っていう悲鳴を抑えながら、すごい形相で授乳しているから、傍から見たら笑っちゃうだろうなー。


It's the first time my breast became so sore. Is it mastitis?


I went out on Wednesday eve without Aratakara. By the time I came home, my breasts were so full and sore. I expressed nearly 200ml and felt a bit better. But ,was it because of wine? Or pain? I couldn't sleep at all. When I woke up in the morning, I had a temperature of 38C. I expressed my left breast till it became empty. This made me feel a bit better but temperature didn't go down. I took paracetamol and went to bed early.

Takara had a temperature over the weekend and I kept feeding throughout nights. That gave a false signal to my breasts to make 'more milk' and my breasts were anyway quite full this morning. This must have been one of the reasons. Or the bacteria or whatever Takara had for his temperature got into my breasts?

When Takara is latching my breast, it really hurts! I try to suppress my scream when feeding. If you are here to watch it, you can't stop laughing! My face is like a clip of horror movie!