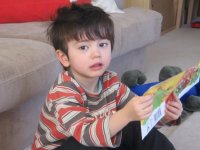 『魔の二歳』と一般に称される二歳は過ぎたので、「あら、アラタって結構楽だったのね、ラッキー」と思っていた。ところが最近のアラタに手を焼く事が多く疲労大。いったい何を間違ったのかしらと勘違いしていた。これが第一次反抗期?


夕食時、お皿の色が気に入らない、スプーンはこれじゃない、ママが隣じゃないといやだ、と、自分の思い通りになるまで落ち着かない。朝、ナーサリーに行くのがイヤで、なかなか起きず、着替えもわざとのろのろ。反抗というか、思ったことを貫き通す。


もちろん、アラタの全ての要求は通らない。少し前までは理由をきちんと説明すると納得してくれていたのに、最近は強気で押してくる所が大変なのだ。それでも公平で毅然とした態度で臨まなければならないのはわかっているが、ワーっと怒ってしまう私の口調で、更に反抗される。


タカラに手がかかるようになってきて、つい、アラタに目が行き届かないのかもしれない。怒られる事をわざとしてネガティブな(よくないよね~)アテンションをもらおうとしていると気が付く事もしばしば。食べ物をわざとテーブルから落としたり、ヨーグルトでわざと顔をべたべたにしたり、16ヶ月歳のタカラがやる事もよくマネをしてくれる。


兄弟ができた事によるアテンションシーキング(赤ちゃ返り)なのか、反抗期なのか。もしや、両方まとめてやって来た?


Jasonも疲れ果てて、子供に対してヒステリックになっている。アラタの最近の口癖は「ダディ、好きじゃない!」「ゴーアウエィー(あっち行って)!」を面と向かってだから、最悪。


I was thinking how lucky we were, Arata is such an easy child. Because he has past his 'terrible 2' period without any big problems. But Arata has given us lots of headaches recently. I was wondering what went wrong until I realised they are typical 3 years old behaviours.


At dinner, he has to swap the plates if he doesn't like the colour of one I prepare, or he has to go to fetch the spoon he wants for this particular meal, or he has to sit next to me but not opposite. In the morning, he tries to take as much time as possible to delay because he doesn't want to go to nursery. Well, these kind of things go on and on 24 hours a day....


Of course, not all his desires are achieved. But up until recently, we could talk him in if we explain him things logically. He's getting more tough and resists us. I know I always have to be calm, fair and firm. But often I just shout at him at the top of my voice and Arata talks back as if it was me telling him off.


Probably he is seeking our attention by doing bad things. (Negative attention is not good I know.) Or he often copies what Takara does. Dropping food from dinner table or putting yogurt all over his face etc. Does he behave like a baby again?


I don't know his behaviours are simple attention seeking, or his "terrible 3" behaviours. Probably bits of both?


Jason has been more stressed than I thought. He hysterically tells off children from time to time and he has looked really exhausted. Arata has started to say, "I don't like Daddy!" or "Go away!" It's not good to hear that even though we know it's not his real feeling and temporary and he is just a child.