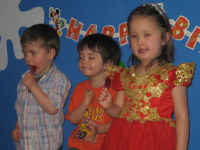 Big Apple のソフトプレイエリアでラビアのバースデーパーティーがあった。ラビアのご家族は、中国新疆自治区ウルムチ近郊出身のウイグル人で、ママのハリアとご主人は現在大学で勉強をしている。そして、ハリアには、私が勤務を増やした5月から週2回程、ベビーシッターをお願いしている。


ハリアは礼儀正しく頭の切れるしっかりものだし、同じアジア人としての親近感、安心感があるので、アラタカラの面倒を見てもらえる事になって本当によかった。もともとアディバを通じて知り合ったが、彼女の話すウズベキ語とウイグル語が、間にキルギスタンがあるにもかかわらず通じるという事に驚いた。中央アジアは文化的にも人種的にも多種多様で興味深いなあ。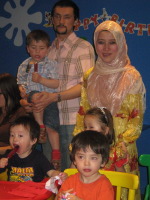 アラタカラはハリアにすっかりなついて、ラビアと遊べることも楽しみにしている。(ラビアも「私はベビーシッターしているのよ」と友達に言っているらしい。)そして、タカラは既にウイグル語を習得。ラビアがママを呼んでいるのを聞いて覚えたのだろう、ハリアを「アパ(=ママ)」と呼ぶ。ハリアが大好きなタカラは、藪から棒に「アパァ!」と言い出す事もあり、そのたびに「今日は来ないよ。」この間はハリアが、「タカラにキスを迫られたわ、それも、口によ~」と言っていた。タカラの最高の愛情表現よ。


そして、ハリアも必然的に日本語を少しずつ覚える様で、まずは、タカラが繰り返す「飛行機」を覚えたと言っていたし、今日は「ココバーバってどういう意味?」と聞かれた。「食べ物がほしい時に言うんだけど、それはタカラ語で、せっかく覚えたのに申し訳ないけど、日本人には通じないからね~」と言ったら大笑い。


We went to the soft play area of Big Apple for Ravia's birthday party. Ravia is Uyghur and her family are from near Urumqi, in Xinjiang Uyghur Autonomous Region in China. Her mother, Hurriya, she and her husband are studying at university, babysits Aratakara for 2 days a week, since I changed my working days to nearly full time in May.


Hurriya is bright, polite and trustworthy person. As we are the same Asian, I feel comfortable with her and I believe it was the right choice to ask her to babysit my kids. I got to know her through Adiba and I was quite surprise to know that Uzbek and Uyghur are similar languages and they can understand each other with their own language, even though there is another country, Kyrgyztan in between. I often learn that central Asia is very interesting in both creaturely and ethnically.


Aratakara get on well with Hurriya and as she often brings Ravia as well, Aratakara always look forward to playing with her. (According to Hurriya, Ravia tells her friends that she babysits 2 "babies"!) Takara has already picked up some Uyghur. He calls Hurriya, "Apa ( = mother)." He must have picked it up from Ravia. And as he loves her a lot, he often shouts "Apppaaa!" out of blue. We then have to reassure that she is not coming today. Hurriya said to me, "Oli likes kissing me. He tried to kiss even my lips!" Well, that's the best way of showing his affection!


Naturally, Hurriya has also started to pick up some Japanese words. She has learnt "Hikoki ( = air plane)" and when I saw her last time she asked me, "What does 'Koko baba' mean?" I had to say, "Takara says that when he wants something to eat but unfortunately no Japanese can understand it. It's Takara's own language!" We both laughed!