きょうはずーっと約束を果たせなかったあかりちゃんのお店に行ってきた。あかりちゃんは、洋裁の学校へ行くために渡英し、今は自分で作った服をたまの土曜日ににポートベロで売っている。


去年のWappingへの引越しの際に私の持っていたDellのPCを売ったことがきっかけで知り合い、その後、PCのセットアップなどで何回かメールや電話でやり取りしたことがあるが、会ったのは半年以上ぶりの2回目。最近は、マーケットに出店したら行くつもりだったので連絡しあうことが多く、彼女いわく「メル友」みたいな関係が続いていた。


ポートベロは映画の「ノッティングヒルの恋人」の舞台となった所で、土曜日になるとマーケットが並ぶ。場所取りには朝早くに行って抽選に通らなければならないらしい。常連さんだと融通が利くらしいが、新顔はあたったりはずれたりと、暇になってしまう土曜日もあるとか。彼女は今年になってから出店しだして、今までに6回ほど場所が取れて売ることができたらしい。場所代は誰かとシェアで25ポンドぐらい、一人で取ると40ポンドぐらいかかる。場所がゲットできると彼女自身がコスプレの格好をしてお店に立つ。「きょうはナースの格好でやります」なんてメールが来るもんだからぜひ見てみたいと思いながら今日に至ってしまった。



今日は「ロリータのコスプレです」ってメールが来た。きょうこそは、と、Jasonと向かう。彼女がいるらしいあたりをうろうろする。東洋人が出店している店もかなりあるが、あかりちゃんが見当たらない。電話してみると、どうやら私たちは通り過ぎたらしい。それもそのはず、わかんないよ!あまりにも見事なコスプレ姿。日本人とは思えない。彼女はオリジナルのブランドを作って、オリジナルのネクタイやリストバンドから、かばん、ジャケット、スカートなどを売っていた。既成のものを大胆にカットしたり、独特の刺繍(?)をしたりして、カムデンあたりをうろうろしている人に受けそうなデザインだ。まあ、とにかく、彼女自身が見ものだから、写真を撮りたいと言ってくる人が後をたたないらしい。私がおしゃべりをしている間も写真を撮らせてほしいという観光客のリクエストにピースで答えていた。


いろいろお世話になったお礼に、かばんを作ったのでと、特製かばんをプレゼントしてくれた。「こっちのデザインは持たないかなあって思って」と、あかりちゃんのブランドのなかでは少しおとなしめのデザインのかばんだ。Gパンをモディファイした大き目のかばんで、私の今日の格好にはぴったり。さすがあかりちゃん!よくよく、家に帰ってから眺めてみると、あっちこっちすごく凝った工夫がされていて、見ていて飽きない素敵なかばんだ。アメリカ系のお店に試しに作品を置かせてもらえることになったと言っていたが、今度見にいってみようと思う。


赤ちゃんの服とかマタニティドレスとか作ってもらおうかななんて相談しようと思っていたけどやめた。なんか違うだろうなあ。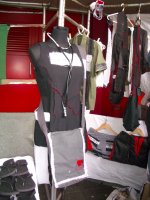 We visited Akari's stall this afternoon. Akari came to London about 2 years ago to go to clothes design & making school. She is now having a small stall on Saturdays at Portobello market.


I met her first time just before I moved to Wapping, November 2003. I sold her my PC. Since then, we have sometimes exchanged e-mails about setting up the PC but we had never seen each other for a long time. She mentioned about her stall a couple of months ago, and I've wanted to go to have a look but our schedule have never met so far and we have been just e-mail friends.



Portobello was the main location of the film 'Notting Hill', one of my favourites. On Saturdays, there are lots of small stalls open alongside the roads. It's called 'Portobello market'. Akari told me that she has to win the draw to get a place. If you are regulars, you will probably get some favours but new comers like her sometimes can not get a stall. She started to have a stall from spring this year and she has done for about 5,6 times so far. Usually she is charged 40 pounds or 25 pounds if she share a place for the place. Once she successfully etc a stall, she dresses up herself in various sorts of costumes, such as nurse, school girl and lolita images.


She texted me this morning saying today's costume is 'lolita'. We must go! We walked around the area she must be, but could not find her. Surprisingly, there are quite a few Oriental people selling food or clothes. I rang her and finally found her. No wonder we could not find her. Difficult to tell that she is Akari nor she is an Oriental! She has had her own brand and selling jackets, tie, skirts and bags. She makes modification with her own ideas on ordinary clothes; cutting off some area of jacket and embroidered wildly, for example. Above all, SHE is outstanding. Akarichan in funny costume attracts lots of people walking by. She is taken photos quite often, she said. While we were chatting, someone with a camera asked her permission to take her photos. She posed with a V sign.



She thanked for helping her setting up PC and gave me one of her works! It's a bag made from second hand jeans. It's totally suit to my weekend clothes. Good sense! When I looked at the bag thoroughly after I went home, it's really good made. You can feel her artistic sense in every single detail. She told me that she is going to deliver some of her clothes at an American shop. I have to ask her where it is and I must go and have a look.


I was going to ask her about making maternity and baby clothes but probably not the right person....?