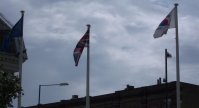 ロンドン南部のニューモルデンと言う所にコリアンタウンと呼ばれている韓国人が多数住んでる地域がある。今日はお昼に、プルコギを食べに行ってきた。ウォータールーから電車で20分ぐらいなので思っていたほど遠くない。駅を降りるといきなり、韓国の太極旗、英国旗、EU旗が並んで立っていた。チャイナタウンに中国系のお店が密集しているような雰囲気ではないが、駅に続く主要通りとその突き当たりのラウンドアバウトから左に折れるあたりにかけて、旅行会社、レストラン、スーパーなどいくつか点在していて、韓国語で宣伝しているミニキャブまであり。
とりあえず今回は Jason がネットで調べて評判のよかったレストランのひとつ ASADAL に行ってみた。キムチ、もやしナムル、カルビ、冷麺などを注文して、二人で35ポンド。ウエストエンドでは大体平均一人30ポンドかかる。今日はビールを飲まなかったことを考えると、うーん、そんなに安いとは思えないかなあ。1割安ぐらい。注文しなかった種類のキムチもお通しみたいに少し出てきたり、サンチュのお皿にはきゅうりもたくさんついてきたのでちょっとお得ってところかな。味はOKだった。そしてまた大量に食べた。私に食欲がないのはもう嘘だ。帰りがけに、コリアンスーパーで韓国もやしなどを購入。ナムルを明日あたり作ろう。
ところで昨日は疲労のため、8時ごろには寝てしまった。近所のフラットでパーティーをやっていたらしく、夜遅くまで大音響の音楽が鳴り、真夜中過ぎてもバルコニーでおしゃべりしている人たちがうるさくって、何回も目が覚めた。ボーっとした中で聞くその騒音と、昨日地下鉄の中で感じた、突き出たお腹が無防備に感じられる恐怖が混ざって、昨日はまた怖い夢を見た。フラットの庭を歩いている時に外から子供たちがいたずらに石を投げてくる。私はお腹をかばうのだが、「危ないから石を投げるのをやめて」と注意する。その後、狭くてドアがひとつあるだけの空間に私がいる。さっきの子供が2人できて、ドアをばーんと開けて、私をドアと壁の間に挟もうとするのだ。お腹の赤ちゃんが…ってはあはあしながら目が覚めた。うなっていたらしく、Jasonも起こしてしまった。怖い夢だったわ。

Korean Town in London is located in New Malden, which is about 20 minutes from Waterloo on BR. We went to have lunch. When we got out of the station, we saw British, EU and Korean flags flying in the square of a big office building. It's nothing like the China Town, where there are loads of restaurants and supermarkets gathered closely. But along the main street from the station and towards the left hand side of the first roundabout, there are quite a few Korean restaurants, supermarkets and travel agencies etc. There is even a mini cab station advertising in Korean!

We tried the restaurant called ASDAL, which Jason had read lots of good reviews on the net. We had Kimchi, Namul, Kalbi and Nenmyon, which cost us about 35 pounds. If we have dinner at a Korean in the West End, we have to expect about 30 pounds per head. Having thought that we didn't have bear today, it's not that cheap. Probably only 10%? There were a couple of plates of complementally Namul and some pieces of cucumber on Sanchu plate. So, not bad. The taste was good. I ate a lot again. It must be a lie now that I have no appetite! I also bought bean sprouts etc at a Korean supermarket. I will prepare Namul tomorrow.
I went to bed at about 8 PM. I was so tired. Some neighbours were having a party. It was so noisy till very late. I woke up for a couple of times. These noises at night and fear I felt on the tube, the fear someone may kick my tummy by accident, must have been the reasons I had another nightmare.


When I am walking in the garden of our flats, a couple of kids are throwing stones at me. I felt really alerted and told them off. 'Stop doing that!' After that, I am in a small room with only one door. 2 of the kids come to push the door very hard against me and the wall. My baby is going to die...... I screamed and woke up with very heavy breathe. Jason was also woken up by me... It was really scary...