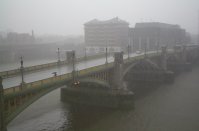 最近、夕立が多い。なんだかロンドンが日本の30年前みたいになってきた。これはオフィスの窓からとったテムズ川に架かる、サザークブリッジと激しい雨のようす。


さて、昨日、うちに帰る途中、母から携帯にメッセージが入っていた。時刻は午後8時45分。ってことは、日本はいったい何時だ?朝の、5時前じゃない!家族に何かあったのかと思って動揺する私。Jasonはいつもの調子で、「きみの体調が気になって眠れないんじゃないの?」いや、母は典型的なO型のはずだ。そんなに神経質じゃない。慌てて電話すると、「破水のこと、きのうメールの途中で寝ちゃったから気になって電話したのよ。」


母も初孫のことが心配でかなり気にかけているようだ。そのうえ、がさつな娘の私。破水はたぶん「騒動」で、実際はしてなかったんじゃないかと言うことを論理的に説明する。私だって100%確信がないから不安はあるが、その後起きないし、何しろ、あの日、トイレに行く時間が1時間遅かったら、疑いの水も乾いてしまって騒ぎにはならなかったはず。そう思うと、見落としてしまっている破水なんてたくさんあることになっちゃうよ・・・が私の勝手な解釈だ。だからこれはシロである。(と思いたい。)


一時間ぐらいうだうだと話すと、母も落ち着いてきて、「とにかく、今日はお風呂には入らずにシャワーだけにして、そしてなるべく安静にしていなさい」と言って電話を切った。私は自分で結論を出していたはずだが、やはり母がこれだけ心配していると、気になってしまう。だいたい、おととい応対してくれた分娩病棟の助産婦が言った「次にまた水かと疑われるDischargeがあったら連絡してください」って意味がいまいちわからないのも事実だから。いったい何を基準にしろって言うのだろう。これも「普段と様子が違ったら」程度だ、素人の私たちがわかるのは。そして、そういう意味であったと信じるしかない。

昨日、オリンピックの開幕式があった。ソフトボールの試合を観にいきたかったな。まだチケットは十分余っている。英国ではまず放送しないだろう。大学入学後も、しつこくソフトをやっていた頃、「ソフトボールをオリンピックの競技に!」という運動のプラスチック製のホルダーをかばんにつけて歩いていたことが懐かしい。


We've had lots of late afternoon shower recently. It's like summer in Japan 20 years ago. This photo was taken from an office window, overlooking the Southwark bridge with heavy shower.



I received a mobile message on our way back home yesterday. The message was left at 8.45 PM. What time was it in Japan? Oh, no, it's about 5 AM! I started to get panicked because it may have been an urgent call. Something happened to my family? Jason calmly said, 'Probably your mom is worried about your conditions and can not sleep.' 'But my mom is a typical blood type O. Those in blood type O usually do not worry much.' Anyway, I called back immediately. Mom answered the phone saying. 'I fell asleep in the middle of exchanging e-mails with you about water breaking last night. I wonder how you are.'



Mom must be quite worried about my pregnancy. It's her, and Jason's mom's, first grandchild! To make things worse, at least for mom, I was born to be clumsy. I logically explained her that 'the' water must have been innocent. To be honest, I am not 100% sure but it has not happened ever since. And, if I had gone to the toilet one hour later, the suspect water would have dried up and I would not have even noticed it. If that was baby water, there would be lots more water breaking incidents without anybody realising. This is my own logic, though.




After talking to mom over one hour, she seemed to be a bit calmer and probably more convinced. She said, 'Don't take a bath tonight and just take a shower. Go to bed early and have a nice rest' then hang up. I must have been convinced myself that everything is ok but after talking to her, I started to feel a bit uncomfortable about my logic. After all, what the Labour Ward midwife told me was quite unclear for me. 'When it happens again, call us' she said. But how can I know when the next is because we have constant whatever sorts of discharge during pregnancy..... I try to believe that she meant 'if I feel something is not quite right.'




The opening ceremony of Olympics 2004 took place yesterday. I really want to go to see some softball matches. Tickets are still on sale. I'm quite sure that Softball will not be broadcasted in the U.K. When I was playing softball for our university, we were carrying a small budge for 'Make Softball one of the Olympics games' campaign. It's been so long time ago....