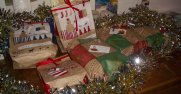 昨日Jasonがクリスマスツリーを出した。日本とNZからのプレゼントを飾る。


きょうはフィジオセラピー科(日本語で物理療法?)が運営している出産前クラスに行ってみた。平日の朝10時からなので仕事をしている間は行けない。今日の課題は出産時の呼吸法とリラクゼーション。


分娩第一段階では、陣痛の波が襲ってきたら頂点までにゆっくりと息をはく。陣痛が強くなってきたら長く、強く。トランジッション段階ではパンティング。分娩第二段階では、横隔膜での呼吸。お腹の筋肉を引き締め、緩め、骨盤下部筋肉を緩める。いきむ時にはゆっくりと息をはく。赤ちゃんの頭が出てくる時はパンティング。


リラクゼーションの説明時にはつい眠ってしまった。家へ帰り、「オールイン」の続きを見てたが、途中で寝てた。3時間ぐらい昼寝して目が覚めると、Jasonが帰ってくるまでまたDVD。この怠惰な時間がたまらない。夜は近くの中華へ。出産前、最後のトフィーバナナかなあ。


Jason put up a Christmas tree yesterday. We've received presents from Japan and New Zealand. Feeling very Christmas!



I went to an Antenatal class run by a physiotherapist. It's held during day time and I could not attend while I was still working. Today's topics was 'Breathing and Relaxation'.



In the first stage of labour, use long, gentle sighing-out breaths, called SOS - sighing out slowly. As the contractions build, use more force when blowing out. During the transition period, use panting and Ho-ho-ha. In the second stage of labour, use diaphragmatic breathing. Brace, bulge the abdomen and relax the pelvic floor muscles. Exhale slowly as bearing down. When delivering the head, use panting and Ho-ho-ha.



After I went home, I started to watch 'All in' but just fell asleep. After waking up, I kept watching it till Jason came back. These lazy hours are really nice to me. We went to the Chinese nearby for dinner. Probably it was my last toffee banana before baby's birth.