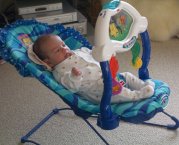 同僚に出産祝いとしてもらったバウンサーは0から6ヶ月児用だが、1ヶ月経たないうちに試した時にはアラタは全く興味を示さなかった。最近は楽しそうに遊んでいる。


最近寝る前に指しゃぶりをするようになった。実際は指というよりゲンコツ。昨日なんかは寝室から「ちゅぱっ、ちゅぱっ」とかなりの音量がするので何事かと行ってみると、アラタがゲンコツをしゃぶっていた。眠いけどまだ寝ていない時で、「うわんうわん」と泣き声ともつかない声をだしたりもしていたが、しばらくしたら寝たようだった。


指しゃぶりは「吸てつ反射」という、おっぱいを飲むための本能から起きる、口に触れたものは何でもしゃぶるという行為で、手が口に触れたからしゃぶってみて、自分の体の一部を認識していくという発達過程。おっぱいを吸うのと同じく安らぎを与えるので、眠る前に指しゃぶりをすることが多い。お腹がすいているサインではないのだそうだ。指しゃぶりは無理に止めさせる必要はない。また「おしゃぶり」を与える場合、永久歯が生える6歳ぐらいまで(歯並びに影響するので)に止めればよい。


The bouncer, which is a present from my work colleagues, is suitable for the babies between 0 to 6 months. But when we tried putting Arata on before, he didn't take interest in it at all. He's started to enjoy it recently.


Arata has started to suck his thumb. In fact, it is not the thumb but the fist. Last night, we heard very strong sucking noise from the bedroom and rushed in. We only found Arata was sucking the fist in dark!


Thumb-sucking is one of the surviving instinct, same as the one to suck nipples for milk, and babies suck whatever touches his mouth. It's also a part of learning his own body parts. As sucking mum's nipples comfort babies, sucking the thumb also calm them down, and babies tend to do it before falling sleep at night. It's not a sign of being hungry. No need to stop babies from doing thumb-sucking. If babies are given dummies, they need to stop sucking them before the permanent teeth start to appear, which is at about 6 years old.