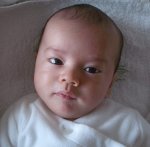 今日の体重は5.33KG。ジフテリア、破傷風、百日咳、ポリオ、髄膜炎Bの5種と脳膜炎Cの予防接種の第1回目。今後毎月1回、3ヶ月に渡って接種を受ける。左足太ももに5種、右に脳膜炎Cの計2本打つ。担当の看護婦さんは、「お母さんをリラックスさせる方が大変なのよ」と言っていた。確かに見ていてかわいそう。アラタは火がついたように大泣きした。終わればあっという間に泣き止んでいたが。もう少し大きくなると物心付いてかえって大変になるらしい。GPで検温はしないので、自宅で測って行き、接種後は念のため30分ほど休んだ後戻ってきた。


大概の赤ちゃんは注射の後に熱を出す。熱があるかにかかわらず、いつもと調子が違ったら飲ませなさいと、シロップ状のパラセテモを処方された。午後、昼寝から目覚めるとアラタがむずがっている気がしたので早速飲ませた。口から流し込むのだが、初めての味でおいしくないのだろう。注射を打たれた時以上に泣き続けて、酸欠になるかと思った。パラセテモが効いたのか、元々熱が出なかったのか今となっては不明だが、しばらく寝た後はいつもどおりのアラタだった。


私はどうやら「発熱」に対して過剰な恐怖心があるようだ。私は子供の頃、しょっちゅう風邪をひいては熱を出し、ひきつけを起こしていた。まだ若かった母は、救急車を呼んだりと、とにかく大変だったらしい。そんな話しを母から聞かされてきたので、子供の熱は危険で怖いというイメージが植えつけられてしまっているのかもしれない。

He weighed 5.33 kg today. Went to GP to have his first immunisation jabs. He had Diphtheria, Tetanus, Whooping Cough, Polio, Hib jab to his left thigh, Men C to his right. The nurse told me that it's more difficult to console mums. Yes, I understood it. It looks so cruel! Arata cried very loud although he stopped immediately after the jabs. When babies grow older, it will be more difficult to settle them, the nurse added. GP don't check babies' temperature so I did it before leaving. We also stayed at the clinic for about 30 minutes for just in case.


Most babies develop temperature after the immunisation. Arata was prescribed syrup type paracetamol. I was told to give it if baby seems unwell regardless of temperature. I felt he was not well this afternoon and gave him 2.5 ml. Well, it was so difficult to make him take the medicine from his mouth. Of course, it was not tasty, rather terrible, I reckon, and Arata kept crying worse than he got jabs! I thought he was going to be out of breath! I'm not sure if paracetamol worked or Arata didn't have temperature at all but he seemed to be normal by the evening.


I'm worried about Arata 'probably going to develop high temperature' too mcuh, I know. When I was a child, I often got cold and temperature with convulusions. My mum was still young and she sometimes called an ambulance. She's told me how difficult these days were again and again. This may have made me believe children's temperature is dangerous and scary.