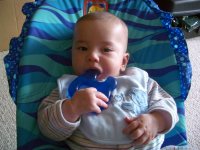 アラタのティージング(Teething 日本語でなんだ?)が始まった。歯が生える前の痛みやかゆみのため、口にものを入れるようになった。自分のこぶしだけではなく、以前は友達だったさるのラトルも入れちゃうので、おまけでもらったボンジェラ(口内炎の薬で有名な会社だけど、Teethingを緩和する薬も販売している)の歯固めを握らしてみた。ちょっと大きめだが、かみかみしている様子。母にピジョンの歯固め

「にぎる・かむトレーニング R-3」

を送ってもらうことになっている。


Arata's teething seems to have started. He put not only his fist but also his long time friend, monkey rattle, into his mouth. We tried giving him a teething ring, which we got as a give-away from Bonjela. It is a bit too big for Arata's hand but he is enjoying playing with it. My mum will send us

a Pigeon, a Japanese baby goods manufacturer, made teething ring

.