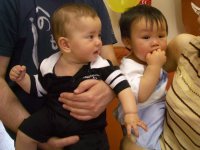 アリスターの一歳のお誕生日パーティーがベッケンハムであった。貸切の教会のミーティーングルームに20人ちょっと来ていた。さすが、ジョージ。いつもながら、おいしい料理が有り余る程用意してあって、特にボボチャチャは最高だった。マレーシア大使館で働いている友達経由で、マレーシアのスイートポテトが手に入るそうで本場の味!華僑のコネクションはいつでもうらやましい。


この前アリスターとジョージ、スーに会ったのはアラタが一ヵ月の頃だから、アリスターは調度今のアラタぐらいだった。
当時撮った写真(ここをクリックしてね!)

を見ると、アリスターはちょっと太目の赤ちゃんだったけど、今はすっきりしてかわいい男の子に。アラタも寝てばっかりの赤ちゃんではなくなったから、アリスターとの差があまりなくなった気がしない?さて、アラタは、今日もいろいろな人に抱っこさせて~と言われ、私はのんびりできた。人見知りが始まったと思っていたけど、勘違いだったのかなあ。それにしても、チャイニーズに囲まれていると妙に安心する私。おかげで、いろいろな人と話せてよい気分転換になった。


We went to Alistair's 1st birthday party in Beckenham. The party was held in a church hall and there were more than 20 adults and children. Plenty of nice food! (Well, George never disappoints us!) I especially loved the bobochacha! George told me that they could get Malaysian yam through a friend who is working for the Malaysian embassy! I always envy the strong and useful(!) Chinese connections all over the world!!


We last saw Alistair, Sue and George when Arata wasn't even one month old. At that time, Alistair was about the same age as Arata is now.
If you look at the photo taken on the day (click here!)
, Alistair was still a chubby baby. But now, he is a cute boy! Arata is also no longer a baby who is always sleeping and they don't look much different today, do they? At the party, someone always came to hold Arata and I could enjoy some baby-free time! I thought Arata's shyness has started but I must have been day dreaming.