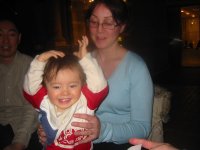 私は2ヶ月近く風邪が治らない。また月曜日の明け方から熱がでた。今も熱さましが切れると熱が上がる。昨日は急に下腹部痛になり、夜間緊急外来へ。(検尿の結果などから膀胱炎って言われたけど、そういう痛みではない。)完全に抵抗力がなくなっている。だからアラタも風邪が治らないのか。彼も一ヶ月近くひきっぱなし。鼻が詰まって、咳が出て、熟睡できないようだ。昨日は念のためGPへ連れて行った。長くひいているので、合併症が起きている心配もあるのでと抗生物質を処方された。バナナ味でおいしそうに飲んでくれているけど。


来年1月からの職場復帰。英国のFlexible Working Hoursという法律に基づいて私も週3日勤務を申請したらあっさりと通ってしまった。先日会社の同僚・元同僚に久しぶりに会った。妊娠中からいろいろ心配してくれていたEdも、私が産休中に転職してしまい、所属していた部署の顔ぶれも仕事内容もかなり変わった。クラス替えがあって新学年になる前の春休みのような心境だ。
Edとアラタがこの前ツーショットしてからもう半年も経つ・・・。


I have been having a cold for about 2 months now. On Monday, I had a temperature again. Still not well and I need occasional paracetamol to reduce temperature. What's worse, I went to the out-of-hour outpatient department last night. I had sudden abdominal pains. From what the doctor could see, I was diagnoses as cystitis, but I doubt it. My immune system is so weak at the moment... And probably because of me, Arata has been also having a cold for about a month. He can't sleep well from coughing or blocked nose. We took him to a GP yesterday and he is now taking a week course of antibiotics, to get rid of possible other infections. The medicine has banana flavour and Arata loves taking it!


I am going back to work next month. I've applied for the change of the working hours to 3 days a week only, following 'Flexible working hours regulation', and was approved. We met up with a couple of my (ex-)colleagues. Ed has changed her job during my leave. The system I was looking after has also been changed. My working environment will be much different and I am a bit nervous about it.
It was 6 months ago when Ed and Arata were taken a photo together...