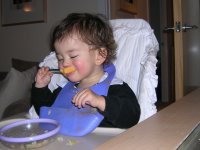 アラタは元気そうに遊んでいるなあと思っても、いきなり嘔吐する。まだおかゆを少ししかたべられないし、ミルクはここしばらく飲んでいない。抗生物質も戻してしまったりする。明日は会社を休んでアラタの面倒を見ることになりそう。


Jasonも本調子ではなく、家族全員がやられている状態。見かねた母が急遽、病窟と化した私たちのところに、金曜日から一週間ほど来てくれることになった。大体私が機能していないから、フラットはめちゃくちゃ。だから、大掃除をしてくれるらしい。会社が休みの日にアラタの面倒をみてくれたら私は休養できる。ああ、もう、今日にでも来てほしいわ。


アラタは最近自分で食べる練習をしている。だいたい手づかみに終わるのだけど、スプーンにすくってあげれば、自分で食べられるようになったし、少しはすくえるかな。この練習のおかげで、毎食後、ハイチェアの周りはぐちゃぐちゃだけど、早く自分で食べられるようになってくれたらそれに越したことはない。


Arata still often vomits. He has only managed to eat a bit of rice porridge and fruit so far. He hasn't had milk at all in the last 4 days. Often Arata throws up medicine.... I will probably have a day off tomorrow to look after him.


Jason doesn't feel well, either, and all of us are unwell. My mum has just decided to come over for a week to take care of us, from Friday. She is going to clean our flat and look after Arata on the days I don't go to work. I will be able to have proper rests! I wish she was here today!


We have started to teach Arata to eat on his own. Often he ends up using his hands but if we put some food onto a spoon, he can put it into his mouth. (He can also scoop a little bit by himself!) Because of this practice, it's so messy around his high chair after every meal. But if he masters using spoon soon, it will be so fantastic!