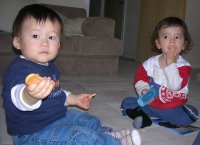 アラタは昨日、日中3回も嘔吐した。それ以外はけろっとしていたのであまり心配していなかったのだけど、夜はなかなか寝付けず、夜中におなかがすいたのかなあと思ってあげたミルクを飲んだ直後に2回吐いた。今朝は朝から熱っぽく、ママに寄りかかったままうたた寝しているので、GPに連れて行った。扁桃腺炎。


私はきつかった。今週になってもよくならないサイノシス。火曜日にもう一度GPで10日間の抗生物質を出してもらい、会社でもふらふらなのに、水曜日は10時まで残業。やはり会社は3日で5日分働いてもらう魂胆だ。今週はまんまとひっかかったけど、来週からはこちらも毅然とした態度でいかないと、私が壊れてしまう。そんな状態で、アラタの具合が悪くなったから、たった歩いて10分ちょっとのGPまでの往復にタクシーを呼んだ。夕方私もGPに行く用事があったけど、アラタをとてもつれていけそうもないので、ゆうこさんとトーマに来てしばらくみてもらい、どうにか今日を乗り切れた。


それにしても子供の嘔吐は大変。アラタのゲロまみれの洋服を毎回取り替え、じゅうたんをそのつど掃除しても、しみが残る。戻した直後は大泣きして、ママにしがみついてくるから、私も洋服を何回も取り替える・・・。


Arata's got Tonsillitis. He kept vomiting yesterday, 3 times during day and twice at night. This morning, he was running a high temperature and he was so unwell. I took him to GP and was diagnosed as Tonsillitis.


It was really hard day today for me. My sinus hasn't got much better and I went to see a GP on Tuesday to get some more antibiotics. I was so ill but I had to work till 10 o'clock on Wednesday. I'm now quite sure that my boss expects me to do 5 days work in 3 days! Well, I have to be more firm and say no from next week. I will break otherwise. In such bad conditions, it was really hard that Arata wasn't well. To the GP, it's only 10 minutes walk from here but I took a taxi. I had an separate appointment with a GP in the afternoon, but, I didn't think I could take Arata with me. I asked Yuko and Thoma to come round to stay with Arata. That's how I could manage the day........


It's a big job when a child feels sick. I kept changing and washing Arata's clothes and cleaning carpet all day. In addition, just after Arata threw up, he cried and came to me for a hug. This means I also had to change my clothes each time.