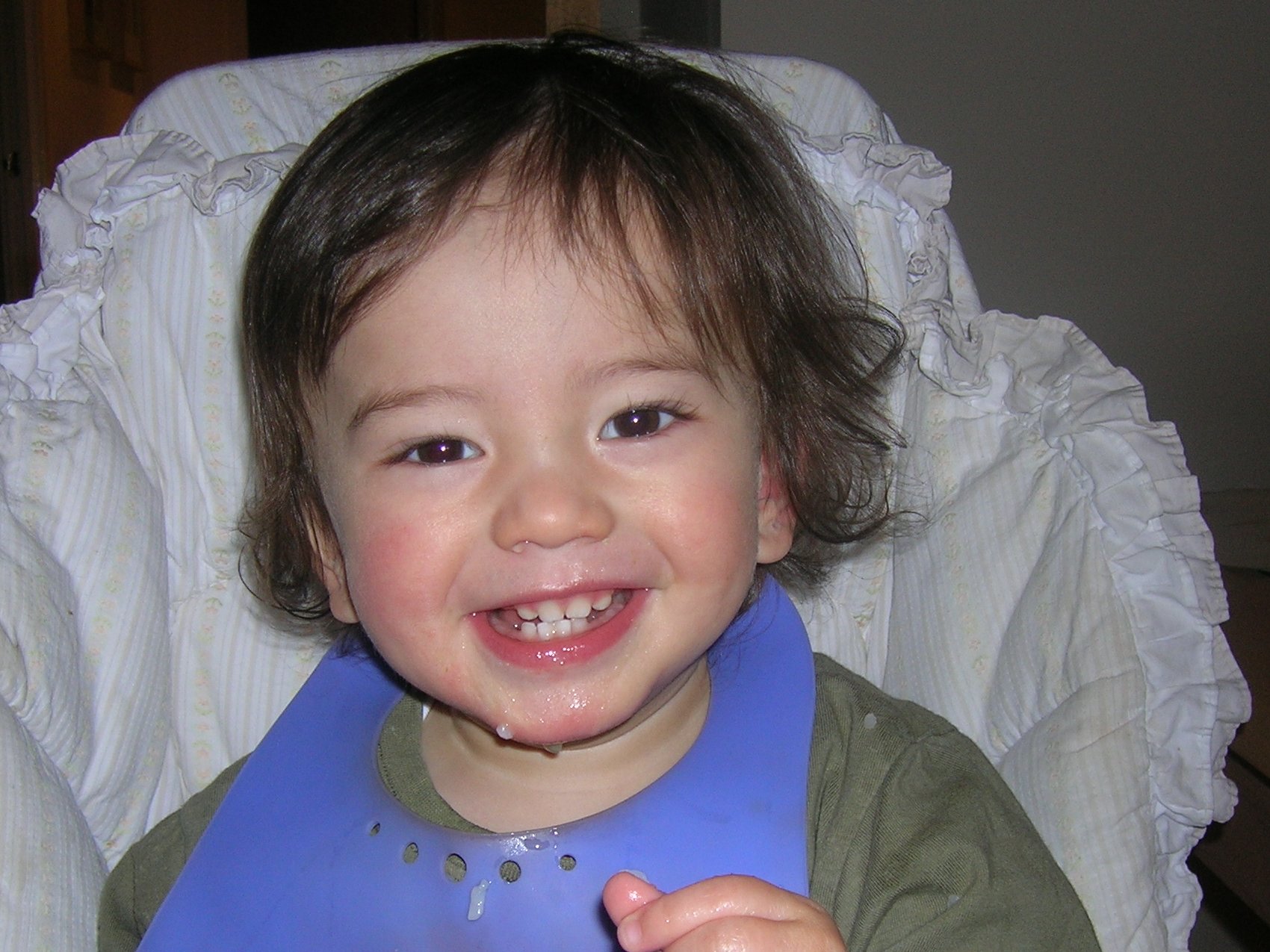 ナーサリーでいろいろな言葉を覚えてくる。一番初めに習ったのは「ノゥ(No)!」だったけど、最近では一日中連発。本の山から自分の好きな本がでてくるまで、一冊ずつ手にとっては「ノゥ」といいながら放り投げる。でも、「もっと食べる?」にも、「おむつ替えようね」にも、危ないものを取り上げても、「ノゥ。」


その他、家にあるものを見ては、いつの間に覚えたの?なんてことも。それは「テディ」だったり、「フラワー」だったり。歌も歌えるようになったが、「ロゥロゥロゥユアボート~。」私たちは教えてないから、ナーサリーだ。どうしても英語なので、私は「『No』じゃなくて、『いらない』でしょ」などといちいち直してはいるのだが、どうも効果がなく面倒くさくなってくる。いや、この努力を怠った瞬間にママと将来日本語で話す夢が閉ざされてしまう。


さて、この写真、カメラを向けたら作り笑いしたアラタ。これもナーサリーで習うの??


Arata has learnt lots of words from Nursery. The first one was "No" and now he keeps saying "No". when he is choosing a favourite book from a pile of them, he keeps picking up a book saying "No" and throwing it behind till he gets the one. When I ask, for example, "Do you want to eat more?", in Japanese, or we take away something from his hand, he says "No."


We are often impressed by how many words Arata knows now. They are 'teddy' or 'flower' and he suddenly says the word pointing an object in our flat. He now sings a song. It's 'row row row your boat...' We don't teach some of them so Arata surely picks them up from nursery. As they are usually English words, I try to tell him, "It's not 'No' but 'Iranai', Arata" in Japanese. But it seems to be in vain. Well, when I stop making this effort, my dream about speaking in Japanese with Arata when he grows up will finish. I have to keep trying.


When Jason was taking this photo of Arata, he made an artificial (?) smile. Did he also learn this at nursery???