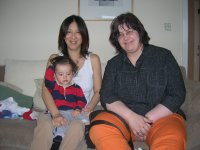 ビルギットが遊びに来た。私はなんだかものすごい疲労で、寝転がったりしてて悪かったかしら。アラタはしばらく警戒して、彼女をジーっと観察。ところが木製の素敵なおもちゃをもらったとたんに、すっかりなついていた。現金なやつだ。
去年も
おととしも
この時期に彼女が遊びに来た。今度は私たちがドイツに遊びに行こうと思う。


Birgit came to visit us. I was so tired and lying down on the floor chatting. (Sorry, Birgit.) Arata was staring at her for a long time to study if she is safe. :-) But when Birgit gave him nice wooden toy from Germany, he started to be very friendly. Birgit came to see us this time
last yearand
2 years ago. We should go to Germany next time.