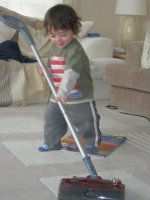 ここ数日アラタの様子が変。ママにべったりなのだ。そして、お風呂に入るのを嫌がるようになった。それでも入れると、ずっと「マンミィ~~~~」と泣き続けて大変。私が様子を見に行くと、おお泣きしながら両手を挙げて抱っこしてくれとせがむから、びしょびしょになりながら抱っこすると、ものすごい力でしがみついてくる。


夜中も「No, No, No, No....」と叫びながら目を覚ましては、なかなか寝付かない。私がしばらくあやして、どうにか落ち着くが、Jasonでは全然だめだ。Jasonは「ダディのこと嫌いになった」と悲しそうにしているし、いったいどうしたのだろう。ナーサリーでいやなことがあったのかなあ。写真は掃除機をかけている(?)アラタ。


Arata has been behaving strangely. He's been so clingy to mummy. And he doesn't want to have a bath. When we manage to put him in the bathtub, with Jason, he keeps crying for mummy. If I go to have a look at the bathroom, Arata finds me and tries to climb out of the tub to be held. Well, I have no choice but pick him up and hold him for a while. Of course, my clothes get very wet.... as Arata is holding on me so strong.


During night, he often wakes up crying, "No, no, no, no...." It's so difficult to put him back to sleep again. It takes long time for him to settle back. And daddy doesn't work. I have to hold him for a while. Jason has started to say, "Arata doesn't like me any more..." What shall I do? Probably something stressful has happened at nursery??


In this photo, Arata is pushing our sweeping machine to clean the carpet.