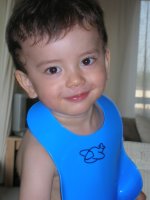 暑すぎる。昨日はロンドンで36度にもなった。冷房なんてない地下鉄の中は45度ぐらいになって、バスなんてもっと暑かったらしい。こんな日が出勤日だとラッキーなのだけど(会社にはさすがに冷房がある)、今日はうちにいたから本当に参った。昨日ほど外気は暑くなかったはずだけれど、フラットの最上階でエアコンなしは厳しい。朝から何度もシャワー浴びて、昼過ぎにはショッピングモールまでどうにかたどり着き、まゆみさん、りかさん親子と5時近くまで、もちろん「冷房の効いた」フードコートで粘る。


アラタは日曜日からオムツかぶれがひどい。実は初めてのオムツかぶれ。下痢していたのに、オムツをしばらく替え忘れたのだけれど、こんなに簡単になるとは知らなかった。オムツを替えようとすると痛いのがわかっているからものすごい勢いで逃げる。降参したのか、今朝は、オムツを替えている最中に、自分で軟膏のふたをあけて足の間に塗っていたからびっくり。夕方に少し昼寝した時はオムツをはずしてあげた。これで少しよくなるといいのだけれど、明日ナーサリーにいけばまた元に戻りそう。ナーサリーではそんなに頻繁にオムツを替えないからなあ…。


写真はオムツ一丁で、ビブをして夕飯を食べたアラタ。このポーズ、チッペンデールズみたいって思うのは私だけ?


It's too hot. It was a record 36C in London yesterday. It was more than 45C on tube and much hotter on buses. If I am at work, it's not bad because our office has air conditioning. But like today, the day I don't go to work, it's extremely uncomfortable. We are on the top, 5th floor, and of course, without air conditioner. I took shower a couple of time this morning and managed to escape to the Peacock centre, the nearby 'air-conditioned' shopping mall, around lunch, then stayed at food court till about 5 pm, with Mayumi and Rika's families.


Arata has had terrible nappy rash since Sunday. Well, we forgot to change his nappies a day before, even though he had diarrhea. It's the first time he has so bad nappy rash and I didn't realise that it's so easy to get one. Arata knows it's sore to have nappy changed and he runs away very seriously when we try to change his nappies. But he must have learnt a lesson. This morning, Arata opened a pot of nappy rash ointment, when I was changing his nappies, and applied it by himself!!! When he had a short nap this evening, I took off his nappy. Hopefully, it will get better soon. At nursery, they don't change nappies as often as we do at home, and we can't expect his condition will improve tomorrow, though...


In this photo, Arata is eating dinner with only nappy and bib. Doesn't this photo look like a scene of 'Chippendales'??