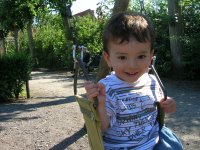 出産前最後のホリデー。妊娠33週なので飛行機は諦めて、ヨーロスターでブルージュへ。ブルージュはいかにも日本人受けしそうなヨーロッパの観光地で、カフェが乱立。運河ではボート、広場では馬による観光と、どこも観光客が順番待ちをするほどにぎわっていた。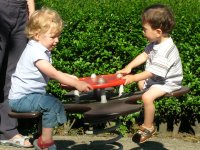 私達は相変わらずのんびり。ガイドブックもなく無計画。初日はホテル
Golden Tulip de' Medici

に着くや、私もアラタも2時間以上昼寝。目が覚めたらもう夕方だった。二日目。50分程の観光バスに乗ったぐらいで、運河沿いのベンチで気持ちよく昼寝して(私)、合間にカフェでランチやお茶、ホテルのジャグジーでリラックス。アラタをプレイグラウンドで遊ばせていると、近所の男の子もやってきた。言語(?)が違う二人でも、シーソーで一緒に遊んだり、ちょっとした動作や発声をまねっこし合うのが面白い。三日目。私がハイストリートを制覇する間に(買い物)、男性陣はボートツアーに参加。アラタは最近覚えた「ふな!」(船)を連発していたそうだ。


ここ一週間ほどアラタはずーっと機嫌が悪い。ブルージュでも、すぐに「ダディ、抱っこ!」だから、Jasonは疲労困憊だった。まあ、このぐらいの年齢になると何でも食べるので楽だけど。夕飯の鉄板焼きから、ランチのブイヤベースまでパクパク!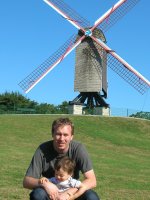 Last holiday before the baby no. 2 is coming. We decided not to take a risk by flying and went to Bruges by Eurostar. Bruges is a very cute 'typical' European touristy town. On the canals, you can go on boat trip. At the square you can ride on a horse and cart. Tourists are queuing everywhere.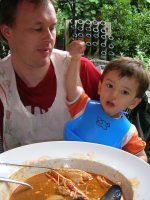 We had as usual no guidebook and no plan. On the first day, just after we'd checked in to
our hotel,
Golden Tulip de' Medici

Arata and I had a good two hour nap. On the second day, we were on 50 minutes tour bus, but that was it. After that, I had a nap on a bench along side the canal, we had Jacuzzi at our hotel, and ate and relaxed at cafe in between.


We didn't forget to find a playground for Arata. While playing Arata met a boy who lives nearby. They speak different languages but played together copying each other's noises or movements. It was amazing to watch what they were doing! On the 3rd day, while I was busy walking around the high street (shopping), Arata and Jason went on a half an hour boat trip. Arata kept saying, 'Funa!', the word he has recently learnt. (The correct word 'Fune' means a boat/ship.)


Arata has been grumpy in the last week. Even in Bruges, Arata went on, 'Daddy Dakko (carry me)' all the time and Jason got quite tired.... Well, apart from that, it's not bad as he eats the same food as we do. We had Teppanyaki for dinner one night, and in this photo, Arata is eating a bit spicy fish soup.