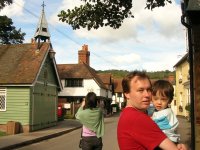 今日はローカルな日曜日を過ごした。ゆうこさんお勧めのWest Clandon にあるパブ、Onslow Armsでサンデーランチ。このパブにはフレンチレストラン

L'Auberge

が入っていて、厨房は同じなので、ローストはモダブリっぽく美味。私は今日のスペシャルのフィッシュスープを食べてフレンチな気分。その後、

Shere

を散策。Shereはとてもイギリス的な田舎の村。小川では子供達がザリガニ取り。Village Hallではアンティーク市。その裏の緑に囲まれたフィールドで少年サッカーの試合。そしてそこにあるプレイグラウンドで、アラタはたくさん遊んだ。帰りにPyrfordロック脇、運河に面したパブ The Anchor で休憩…と言っても私とアラタは車の中で昼寝していてパス。産まれる気配なし。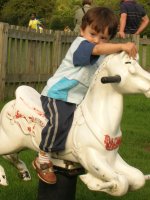 We went to the Onslow Arms, a pub, in West Clandon for lunch. This pub has a French restaurant

L'Auberge

and the food is served from the same kitchen. The roast is modern European like and really good. I had fish soup today and felt very French! We then went to the small village

Shere

to walk around. It's a very cute English village. In the stream, children were catching fish, at the village hall, an antique market, and in the field surrounded by green, young children were playing a football match. Arata spent some time at the playground next to it. On our way back to Woking, we popped in to a pub 'The Anchor' in Pyrford. It's located along side a canal and just by a lock. Well, Arata and I skipped this break as both of us were having a nap in the car... Still no signs of the baby coming out.