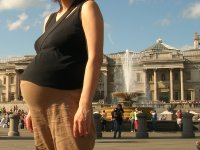 アラタの時はニンプ腹写真をたくさん撮ったのに、今回は一枚もない。慌てて一枚撮ったけど、全身をUpするのは恐ろしいので、ナショナルギャラリーをバックにお腹だけ。右の写真はアラタを妊娠していた36W0D時の腹写真。同じぐらいの大きさかしら?


昨日の夕方から恐ろしく大きな口内炎ができて、痛くて食べられない。お腹が空くのに食べられない。アラタのTeething用のボンジェラを塗ってみたけど効果なし。Bootsの薬局に行ったところ、妊婦にはボンジェラすら勧めないらしい。そして、お決まりの、「パラセテモ飲んでおいて。」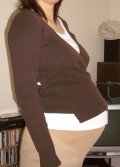 この国は、なんでもかんでもパラセテモ(熱さまし&痛み止め)。妊娠中に飲める薬というのもあって、喉痛がひどかった時も、パラセテモ飲めと言われた。妊娠していなくても、たとえば、腰痛でGPに行った時もパラセテモを処方されたっけ。


This is the first photo of my bump for this pregnancy. When I was pregnant with Arata, we took quite a few and his brother will definitely feel it's unfair. I didn't want to upload my whole body, which looks horrible, so my bump with the National Gallery background! The photo to the right is the one taken at 36W0D when I was pregnant with Arata. About the same size, aren't they?


I've had a huge ulcer in my mouth since last night. It's too painful to be able to eat. I'm hungry but can't eat. It's terrible. I applied Arata's teething gel, Bonjela, but it didn't work and I went to the Boots pharmacy. They said during pregnancy, it's better to avoid even Bonjela to be on the safe side. And I was advised to take Paracetamol, as usual!


In this country, Paracetamol must be the 'golden' remedy. When you have a sore throat, their advice is "Take Paracetamol" and even when you have a backache, "Take Paracetamol!"