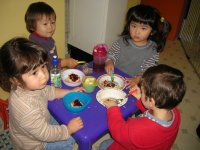 月曜日、久しぶりにあきこさん宅におじゃました。タカラと2日違いで生まれた弟がいる3才になったカレンちゃんは、アラタやトーマに「こっちで遊ぼうよ」と手を握ったりする優しいお姉さん。(アラタは「やだ」って振り払っていたけれども・・・。)


子供用のテーブルに、みんなで座ってスコーンを食べさせたら、保育園のようでかわいらしい。アラタはナーサリーでこんなこともしているのかな、お行儀よく最後まで座ってスコーンも平らげていた。ゆうこさんのスコーンがおいしかったからね、きっと。


そして、この日以来アラタが「カレンちゃん」と言う時は、この時に撮った写真をPCで見せろということ。かわいいカレンちゃんが気に入ったのかしら。ついこの間まで「まなちゃん」連発していたのに、もう心変わりしちゃったの?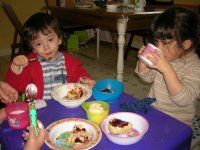 On Monday, we went to see Akiko. She has 3 year old daughter Karen. Karen has grown to a nice gentle girl . She quietly held Thoma or Arata's hand and suggested to play together. (Arata said, "Yada (=No1)" to her offer, though! ) Akiko also has a son who was born 2 days after Takara.


4 children sat together at a children table and had scones. It was very cute to see them like that. Arata behaved very well and sat quietly till he finished his scone. He must be used to this situation at nursery or because the scones, Yuko made, were so tasty?


Since this visit, Arata has kept saying, "Karen chan". When he says this, he wants to see the photos we took. He was before saying, "Mana chan", another Japanese girl on this photo, often for a while.... Has he already changed his mind?