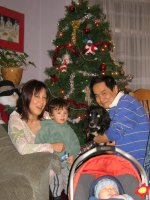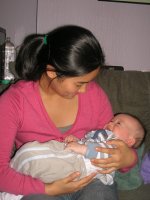 かわい家のランチに招待される。モニカはもう16歳。タカラを抱っこしたり、アラタと遊んでくれた。アラタはモニカが気に入って楽しそうにまとわりついていた。


そういえば、私が高校3年の時、理系コース以外の生徒は数学の代わりに美術か体育か保育の選択ができた。私は迷わず保育を選んで、毎週2時間ほど、構内にある付属幼稚園の子供と遊んでいた。私の通っていた高校(女子校)は、県立高校には珍しく付属の幼稚園だけがあった。伝統ある女子校だったので、保育の授業のために付属幼稚園が併設されていたのだと思う。


大人になってからは、小さい子供とどうやって遊んでいいのかわからなくなって、苦手意識が強かった。でも、17歳のあの頃は、子供と遊ぶのが楽しくて、毎週保育の授業を楽しみにしていた。将来、幼稚園か小学校の先生になろうかなあって思ったものだ。モニカも同じ気持ちで楽しく遊んでくれたかな。


We went to Moto's family for lunch. Moto's second daughter Monika is 16 years old. She held Takara and played with Arata. Arata took to her soon and played happily with her.


When I was at the 3rd year of high school, students had a choice among Arts, PE and child caring, if we didn't take any extra math classes. I chose child caring without hesitation. Our school, I went to a state girls' high school, had an attached kindergarten in the same compound. It was very unique for a Japanese state school to just have an attached kindergarten. If I'm not mistaken, the kindergarten is for child caring classes for the students.


When I got into my mid 20s, I started to loose the feelings how to enjoy playing with small kids and I started to feel uncomfortable to be with them. But in those days, I was just 17 years old, I really enjoyed playing with children and I always looked forward to the child caring classes. I even thought about being a nursery or primary school teacher. I hope Monika also enjoyed playing with AraTakara like I used to feel.