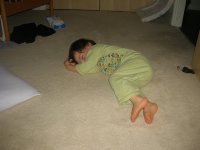 アラタカラをJasonに任せて夜の初外出。宴も酣、9時過ぎに電話すると、「すぐ帰ってきて」とJason。


1時間後に家に着くと、アラタは寝室の入り口に倒れていた。力尽きてベッドまで到達できなかったのだ。パジャマに着替えることも寝ることも拒んだアラタは、泣き続けるタカラを横目に、オムツを脱いで、ほやほやウンチを寝室のじゅうたんの上に落とし、そのお尻のまま座りこんだということだ。


一番の原因は、おっぱいがほしいタカラが4時間泣き続けたこと。タカラの泣き声はとにかく大きいから、初めアラタは両手で自分の耳を押さえていたけれども耐えられず、泣き止ませようと、タカラを叩いたり、ボトルを無理やり飲ませようとしたらしい。予測通りタカラはボトルを拒んだわけだ。同じ状況でも、アラタが赤ちゃんの頃は、ボトルをちらつかせると、意外とすんなりと降参してかぶりついていたのだが、タカラは頑固。そんな小細工をみせると怒りで更に烈しく泣いたそうだ。


それでも50MLを飲ませたJasonには脱帽。そしてポジティブJasonのせりふは、「ママがもっと外出してタカラはボトルに慣れなきゃ。」いいダンナだ。


I went out for dinner leaving AraTakara with Jason for the first time. When I rang Jason at around 9 pm, he begged me, "Please come home."


When I got home an hour later, Arata was lying on the floor of our bedroom. He was too tired to reach his bed and he was sleeping there. He refused to go to bed and refused to change to his pjyamas. At one stage, he took off his nappy and dropped fresh poo on the carpet, and even sat down with his bottoms still dirty!


It's all because Takara kept crying for 4 hours. His cry is always very loud. Arata first put his hands to his ears to shut down but he couldn't put up with the loud cry any longer. He started to hit Takara and even tried to push a bottle into his mouth. But as expected, Takara refused bottle. When Arata was in the same situation as a baby, he would quite easily give in if Jason showed a bottle in front of his eyes. But Takara is more stubborn. He didn't like such a trick and he cried more with anger.


Jason somehow managed to give Takara 50ml of formula. And he said to me, "You have to go out more often. Takara has to get used to the bottle." What a positive daddy he is!