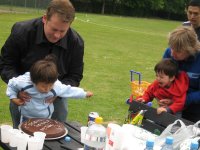 Woking Parkでトーマ2歳の誕生日パーティー。トーマはサッカーが好きなので、みんなでミニサッカー。小さい子供は親のヘルプ付きだが、3歳を少し過ぎるとゲームを楽しむことができるようだ。アラタはよく理解できずに全然違う方へ走って行ってそれっきりだった。


トーマも同じような感じなんだけど、彼はサッカーが上手いから少し年上の子供に混ざって大健闘。2歳になったばかりとは思えないほどドリブルが上手い。絶対にセンスあるぞ。トーマがかわいいのは、他の子にボールを奪われるたびに、そっちの方向を指差して、泣きながらお父さんに助けを求めるところ。「おもちゃ取られた~」って言いたいんだろうね。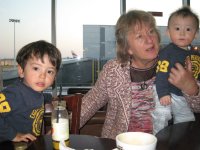 Jasonママが1ヶ月ちょっとの滞在を終えてニュージーランドへ帰った。日本から帰ってきたばかりのアラタは日本語オンリーだったので、コミュニュケーションが全然取れず、Jasonママも寂しかったみたい。でも、1ヶ月の間に英語も話すようになった。テレビやナーサリーなどで聞いて、元々頭の中にあった英語が出てきたのか、ナーサリーではいつもこのぐらいは話しているのか、この1ヶ月でJasonママから学んだのか。不思議だけれども、うらやましいわ。


Thoma's 2nd birthday party at Woking Park. As Thoma loves playing football, we had mini football matches. Children of Arata's age played with their parents' help. But if they are older than 3 years, they can understand the concept and enjoy games. Arata didn't understand what to do and he ran off the pitch. That's it. He never went back to the game.


Thoma was similar to Arata. But he is surprisingly good at dribbling balls for his age. He was more participating in the game with a bit older children. The sweet moments were when his ball was taken by another child. He always stopped and started to cry pointing the boy. Thoma must have wanted to say, "He stole my toy!"


Jason's mum has gone back to NZ after over a month of stay. When she arrived, we were just back from Japan and Arata couldn't communicate with her at all as Arata seemed to understand and speak only Japanese. Jason's mum must have felt sad. But in the last week or two, Arata has started to speak a bit of English. I'm not sure if he learnt English very quickly from Jason's mum, or if he anyway speaks English that much at nursery, or he had enough English in his brain and Jason's mum triggered his language skill. Well, whatever the truth is, I envy him.