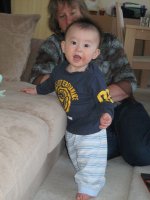 タカラ。手をたたけるようになったのは2週間ぐらい前。まだ片方がぐーになっちゃうけど。

(アラタは少し早かった。)



寝返りははっきりと目撃していない。半分は回っているのはよく見かけるし、最近は横向きに寝ることもある。


今日は私達のベッドから初めて落ちた。ってことは寝返りしているのか?

(アラタの初落ちは…。)

アラタの時も今日も、Jasonが世話をしていた時に落ちたので、私は目撃していない。「XXXした隙に落ちちゃったよ…」って今回も言っていたけれども、男の人って目の端で見えないものなのかしら?


つかまり立ちはこの通り。次男の宿命で、放って置かれることが多いから、一人でソファの前でつかまり立ちの練習しているからね。


Takara's milestones. I don't pay enough attentions and I often don't know how long he's been able to do them.


Takara started to clap his hands about 2 weeks ago, although only one of his hands is not properly open.

(Arata was able to clap his hands at about the same time.)



I haven't seen Takara rolling over in my eyes but he can probably do it. I often see him rolling half over and he's started to sleep on his side.


He fell off our bed for the first time today. Does this mean he can roll over now??

(Arata fell for the first time like this...)

In both occasions, it was Jason who was with them. And he made the same comment today."When I was not looking at him for a couple of seconds, he fell." Can't men see 2 things happening at the same time?? We, women, can do it!


Takara can stand up with support like this. Well, he is often left alone without any attentions, and he practices a lot on his own...