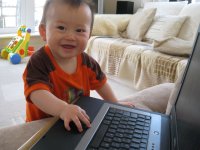 2ヵ月ぶりに体重測定。タカラ8.22Kg。出生体重からの現在の予測体重は9Kgだから伸びは鈍化。よく動くようになったし、好き嫌いが激しくなり、食べる量が減った。ヨーグルトやフルーツピューレと混ぜないと食べないこともあるので、こんなものか。


アラタは10.84Kg。時間をかければ完食するし、以前より食べるので、3ヶ月前で300G増えたのは安心。と、思ったらヘルスビジターが寄ってきて、「アラタは体重が全然増えない、からもっと脂肪分の多いものを食べさせて、念のため医者で検査してもらうように。」

アラタの出生体重(3150g)からの現在の予測体重は12Kgだし、同月齢の子どもの体重の上下幅の下限ぎりぎりではある。気にはしているけれど、よく動くし「絶対に」昼寝はしない。だから一日のエネルギーの消費量が多いからだと思うが「取り分けた上にバターやチーズを加えてあげなさい」(試しにやってみてるけど・・・)とか「栄養剤を飲ませろ」と言われて少し疑問・・・。


4回食にするとか、もう少し健康的な解決もあるかもしれないので医者に連れて行こうと思う。


Went to the Child clinic to have Aratakara weighed. Takara was 8.22Kg. From his birth weight, it is expected to be at about 9Kg now. Apparently his growth has slowed down. But he has started to be more mobile and be fussy about food at the same time. and it's quite understanding result. Takara often refuses food if it's not his favourite. Sometimes I have to mix 'savour' food with yogurt or fruit puree to encourage him to eat.


Arata was 10.84Kg. He has started to eat well, although he takes long time to finish meals. For me it looked good to gain 300g in the last 3 months. But when I was getting ready to go home, a health visitor approached me saying, "Arata hasn't gained much weight and he has to see a doctor."


From his birth weight, Arata would be at around 12Kg by now, according to the British child growth map. And his current weight is nearly on the bottom line of the weight range of his age. We have, of course, been a bit concern about it. But Arata is really active and he doesn't have a nap during day and probably he uses up all the energy he produced. I'm not sure if it is really good to "add extra butter or cheese on his meal" or "give him some supplements" as the health visitor suggested. (I have already started to put extra butter on his meal anyway.)


We may have more constructive, for me at least, solutions like giving 4 meals a day etc. I should take him to see a doctor.