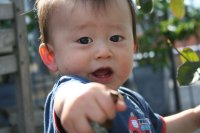 お出かけ、車のおもちゃで遊ぶ、横になっている赤ちゃんなどの写真で構成されている本。最後のページには鏡がついていて自分の顔を映すようになっている。


アラタが何度も繰り返す「レディトゥゴー(Ready to go)」(この赤ちゃんはお出かけの準備ができたよ)は、アラタの好きなページ。語呂がいいからかな。


最後の鏡がついているページになると、アラタはいつも自分以外にも、「ママ!」「ダディ!」「オリ!」と言いながら鏡を向けて映してくれる。今回は、おまけがあった・・・。



Arata is reading a book by memory.



In this book, each page has a baby photo who is about to go out, playing with a toy, lying down etc. In the last page, there is a mirror to reflect ourselves (children themselves).


Arata likes "ready to go" page. Probably he likes the sound of the words. Every time he reaches the last page, which has a mirror, he not only reflects himself but he turns it to each of us saying, "Mama!", "Daddy!" and "Oli!". This time, he included one extra....