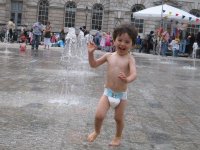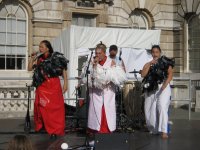 サマーセットハウスの「フリータイム」という催しに行った。夏休みが始まったばかりの子供向けの音楽、アート、ダンス、工作などが体験できるイベントで入場料無料。重要文化財のように歴史あるお屋敷でこうやって楽しめるのは英国らしい。


中庭の噴水では、子供達が水遊び。(水着を持ってなかったアラタはオムツで!)WAIというニュージーランドのマオリバンドのコンサートもあった。マイナーなグループだが、JasonはCDを持っている程のファンらしい。ポイという、てるてる坊主みたいなボールを使ったダンスには、ワークショップで手作りしたポイを持った子供達も舞台に上がって踊った。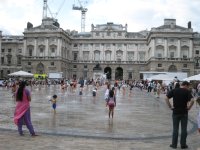 シャイなアラタは舞台にも上がらないし、舞台の前の子供席へも移動しない。でも、歌の中で、マオリ語の「1、2、3・・・」が出てくると、嬉しそうに「タヒ、ルア、トル・・・。」10まで数えられるからね!


舞台から「ニュージーランドから来ている人はいますか?」と聞かれて「イェース!」と大声で答えると、「どこから?」Jasonが「ワンガヌイ!」我が家のニュージーランドのお里はワンガヌイなんだと、少し新鮮でした。


We went to "Free Time" at Somerset House. It's a children's event of art, dance, music, craft making etc, for free of charge. The idea to have such an event in such a venue is very British, I think.


At the fountains children were playing in swimsuits. (Arata was in his nappy.) WAI concert was also on. They are New Zealand band of traditional Maori music. Jason has their CD and he enjoyed the concert most, I think. With one song, children who made their own pois at workshop earlier, went on the stage to dance together.


Shy Arata didn't want to go up on the stage nor move forwards to sit in front of the stage with other children. But when he heard "Tahi, Rua, Toru..." in one of the songs, he looked amused. Of course, he can count up to 10 in Maori now!


The lead singer asked us if anybody is from New Zealand. I yeiled, "Yeeeees!", pointing at Jason. She then asked him where he is from. Jason shouted, "Wanganui!" I then realised his and our 'home' in New Zealand will be always "Wanganui", where Jason grew up, although his mum doesn't live there any more.