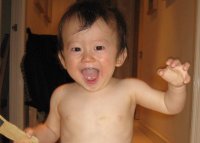 ラグビーワールドカップ。日本は予選で敗退したが、ゆうこさんとテレビで観戦もした。私達、日本人女子だし(?)、つい、「きゃーーーーーーーー」って黄色い声を出して、興奮するんだけど、それをタカラが真似するようになった。


満面の笑みで、腹の底から「キャーーー」と奇声を上げるのでものすごい騒音。そして、それをアラタが真似するようになり、アラタカラで、「キャー」「きゃーー」と呼応し合って喜んでいるから頭が痛い・・・。


ちなみに、Jasonはもちろん、オールブラックスを応援する。ところが、イングランド対トンガの試合で、イングランドを応援している私の横で、トンガのトライに「よっしゃあ」って言ってるから、なんで?


トンガとサモアは、オールブラックスBチーム、Cチームなんだって。両国の殆んどの選手がニュージーランドのクラブチームでプレーしているので、才能があればオールブラックスに選ばれる。及ばない選手が自国の代表になるということらしい。日本チームは、はっきり言って日本&ニュージーランドの混合チームだから、家庭の事情を差し引いても日本も応援しなきゃね!

面白いアラタ語をアラタのサイトにJasonがアップしました。

(ここをクリック-日本語版は英語の後です。)


写真は、お風呂から出てくると裸のまま奇声を上げて走り回るタカラ。


Since I watched a Japan's match of rugby world cup with Yuko, Takara has started to scream in really high pitch. Well, we Japanese females are "famous" for screaming while watching sports. Yuko and I kept screaming during the match from excitement and Takara decided to copy us.


Takara screams from bottom of his stomach, with a big smile on his face. It's so loud! And.... Arata copies him. They often scream to each other, one screams "Kyaaaaaaaaa" then another goes "Kyaaaaaaaaaaaaaa".


By the way, of course, Jason supports All Blacks. But when I was "screaming" when watching England vs Tonga, I was surprised to see Jason supporting Tonga. According to him, or in general?, Tonga or Samoa are regarded as All Blacks B and C teams. (Because thouse who can't be chosen from All Blacks play for their own countries as most of them play at club teams in New Zealand. Interesting!) So, how about Japan? Apart from the fact that Jason has a strong connection with Japan, Japan team is actually Japanese and New Zealand mixed team and he has to support it!


Jason has added a new entry on Arata's site about his 'interesting' vocabulary!

(Click here.)



This photo is Takara who has been in the bath. As soon as he comes out, he runs naked screaming!