土曜日は、パーティーのはしご。と、言っても子供達のお約束。まず、リリちゃんの誕生会へ行って、その後、アナベラの家のハローインパーティー。アラタは朝からパンプキンのコスチュームを着て、リリちゃんのパーティーにも「着ていく~。」ま、いいんだけど、

去年はあんなに泣いて嫌がって、

その後も当時の写真を見るたびに「パンプキン、いやだー」って言っていたのに。一年で面白さがわかるようになったのね。(そして一年経っても同じサイズの服が着れるんだねー。)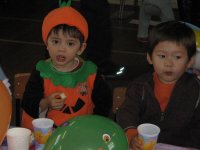 ところで、アラタの水疱瘡はとても軽く済んだ。自分がなった記憶からももっとひどいのを覚悟していたけど、熱もでないし、発疹も20個ぐらい。毎日元気に、でも外に出れずにパワーをあり余らせていた。水疱瘡をもうやっているルークが一度遊びに来てくれて助かった。かゆみ止めには、夕子さんがGPに勧められたというカーマインクリームを買ってみた。効いたのか、かきむしるほどひどくなかったのか、よくわからない。


We went to 2 parties on Saturday. Well, all Aratakara's ones. We went to Lilia's 4th birthday party first, then, went to Annabellie's Halloween party. Arata found the pumpkin costume that he hated so much last year. He put it on and seemed to be so happy this time. He insisted to wear it to Lilia's party.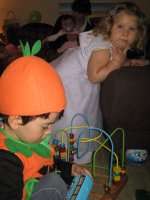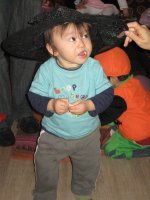 Last year, he was in the pumpkin only for a minute.

He started to scream and took it off.

Apparently he didn't like it. Since then, whenever he sees the photo of him in the pumpkin, he always says, "I don't like pumpkins!" He's grown out of it and he now understands the exciting aspect of dressing up! (He can still wear the same size costume, by the way...)


Luckily, Arata's chickenpox was very mild. He didn't have any temperature and he had only about 20 spots in total. He was full of energy for a week but as he couldn't go out, he was a bit frustrated. Luke, who has already had chickenpox, came to visit us, which was very good for us. We bought calamine cream, which was recommended to Yuko by her GP. It probably worked or, anyway, Arata didn't have much to scratch.