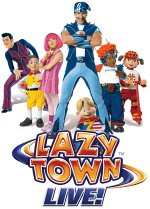 ウォーキングシアターで

『レイジータウンライブ』

を観た。アラタは、『フィンブルス』『トゥイニーズ』に続き、3回目のシアターでの観覧。

『フィンブルス』の時は後半は観客席の階段の上り下りをずっとしていた

が、今回は最後まで座って見ていた。成長したわー。ただ、一緒に行ったマッツはダンスしたり、手をたたいたり、ノリノリだったのに、アラタはしない。まあ、プレイグループ行っても、お歌の時間に絶対にみんなと一緒に踊ったりしないから予測はしていたけど。


これは性格なのだろうか。大丈夫かしら…。「楽しかった」と言っていたので楽しかったのだろう…けど…。シアターデビューのタカラ。前半は静かに見ていたが、後半は愚図ったのでおっぱい上げたら寝た。今まで観た中で、一番私も楽しめた、なかなかのお勧め。キャストには日本人の女優さんもいた。


We went to see

"Lazy Town Live"

at Woking Theatre. It's Arata's 3rd visit to the theatre. When we went to see "Fimbles Live",

Arata was walking up and down the stairs

in the second half. When we saw "Tweenies Live", he looked bored all the way. And this time, I can tell you that he was really concentrating on the show although he didn't show any excitement. Mats danced along, clapped his hands and surely participated in the show with other children. But Arata didn't do anything. He just sat and watching. Well, I could expect this as he never takes part in the song time at play group.


Is this his personality? I'm a bit worried. He said he enjoyed it, although he didn't look enjoying it...


It was Takara's first time to go to theatre. He watched quietly before the interval. In the second half, he started grizzly. I gave my breast and he fell asleep.


In 3 children's shows I've seen here, this is the best one. I enjoyed it a lot! One of the cast was a Japanese actress!