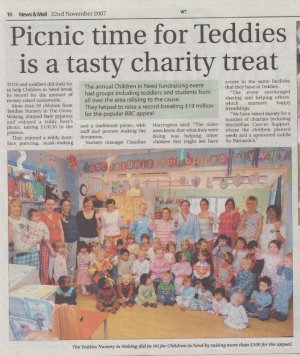 BBCによる

『Children In Need(=困っている子供達のために・・・って訳でいいかしら?)』

というチャリティイベントがアラタカラの通うTeddies Nursery であった。


この日はパジャマを着て行き、フェイスペイントなどを楽しんで、チャリティなので、少しの募金をした。このイベントが「Woking New and Mail」のという地元誌の11月22日号に紹介された。(英語文の後にJason作成の拡大写真を載せてあります。)


There was a charity event at Teddies nursery, which Aratakara attend. It's

"Children in need"

, a famous charity run by BBC.


On this particular day, children went to nursery in pyjamas and enjoyed face-painting etc. This event at their nursery was reported in a local paper, the 22 November issue of 'Woking News and Mail'.