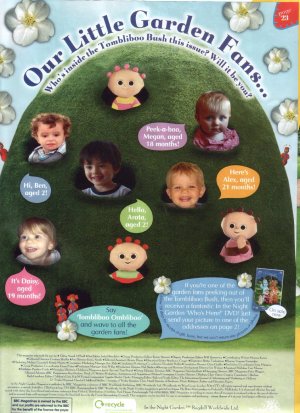 最近アラタがはまっているテレビ番組が

『In the night garden』

。シンプルなキャラクターが子供に受けるのはテレタビーズと同様。私にはあまりかわいいとは思えないが、登場人物の擬音語のような名前をいつまで経っても間違える私とは大違いで、最近はタカラまで気に入っている。


イギリスの子供達が寝る時間の19時直前に放映されているだけあって、番組のテーマ音楽はリラックス効果ありでなかなかよい。携帯のリングトーンはないかしら。


この番組の雑誌

『In the night garden』(1.99ポンドで3週間毎に発行)

は、シールを貼るページが多く、他のキャラクター雑誌(子供番組の多くに同様の雑誌がある)よりは、シールブック好きのアラタにはもってこいなので、タカラの昼寝中にカフェに行く時に活用している。シール貼りに集中している限りアラタはおとなしく座っているので、私はゆっくりとコーヒーを飲みながら、雑誌をネタに、アラタと二人きりの時間を満喫できるわけだ。


この雑誌の読者のページにGardenファンとして写真が掲載されると、番組のDVDがもらえるというのにつられて応募したら、載せて貰えました。アラタは自分の写真を発見して「アラタいたね~。」


Arata loves

'In the night garden'.

It's just a sophisticated version, more CG, of Teletubbies for me. The characters look simple and I understand children like simple looking big eyed characters. I can't say they are cute from my point of view. Anyway, the names of characters are very strange and I can't learn them at all, while not only Arata but Takara has also started to like it!


The program is on TV just before 7 pm, British children's (I must say it's not Japanese children's!) bed time, and its theme music is soothing and nice. I wonder where I can get a ring tone, though.


There is a magazine for this program as well. It's also called

'In the night garden' (every 3 weeks, 1.99 pounds)

and they give us more stickers than other similar magazines (lots of TV characters have similar magazines), which suits sticker-book lover Arata. I buy these magazines when I go to a cafe with Arata while Takara is having a nap in his buggy. When Arata concentrates on putting stickers on pages, he sits at the table quietly and doesn't move around. I can have a coffee peacefully. Of course, Arata and I can enjoy our time nicely together.


Arata's photo is in the current issue as a 'garden fan'. This means we won a DVD!! A couple of weeks ago, I sent his photo hoping to win their DVD, if a child's photo appears on the magazine, they will send a DVD. When Arata found his photo, he said, "Arata is here!"