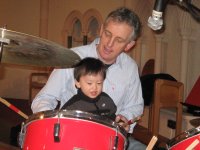 シャイなアラタはJasonの遺伝だねえとよく言われる。そして、人見知り皆無のタカラを見て、こっちはお母さん似なのねと言われるのだが、私はどうやってもそこまで社交的にはなれない。落ち着いたJasonのご両親の事を考えると、これは紛れもなく私の父の遺伝子だ。


近所の教会Christ churchの子供向け日曜サービスの一環で、バウンシーカッスル(空気を入れたトランポリンのような大型遊具)もあるというので、暇つぶしに行った。もちろん、バウンシーカッスルにまっしぐらなのはタカラで、アラタは躊躇。一緒にいたまなちゃんに「どうしてしないの?」と言われて黙り込むアラタ。大きいお兄ちゃん達やアラタと遊ぶのを諦めたまなちゃんに囲まれてタカラはジャンプジャンプ!


10分程遠巻きに眺めた後、少し試しては私の所に戻って来て、を繰り返したアラタとは対象的に、大きい子供達の時間になり(チビがいては危ないから)お兄ちゃん二人に連れられ戻ってきたタカラは、手を離されると速攻舞い戻りみんな苦笑い・・・。


アラタがやっと慣れてくれてやれやれと思っていると、タカラの姿がない!ライブ演奏が始まり、さっさとカッスルから下りて、バンドがいる舞台へよじ登っていた。親切なみなさんで、演奏が終わるとタカラを抱えてドラムを叩かせてくれた。


その後、教会入り口でサービスの宣伝していた熊(の着包みを着た人)が舞台に出てきて、観客も生演奏で歌いだすと、再びタカラはわき目も振らずに舞台に突進。舞台に上がって熊に触ったり、舞台からニコニコと、音楽に合わせて体を揺らし始めた。


あっけに取られた私。4歳になったばかりのまなちゃんが心配して、舞台に上がってタカラを連れ戻そうとしてくれたが、心配症のアラタが「オリが行っちゃった~~~」とパニクったので、我に返った私は赤面しながらタカラを連れ戻しに行きました。


ふと思い出したのは数週間前に行ったアラタの友達、ニコラスの誕生パーティーの事。ソフトプレイエリアで1時間程遊んでからケーキ食べて、という段取りだったが、なかなか入ろうとしないアラタをJasonが説得しているうちに、タカラはさっさと楽しそうに遊んでいたそうだ。そして、アラタはタカラに釣られるような形で遊び始めたらしい。


アラタは昔から絶対にタカラのような行動は取らないから、年齢によるものでもなく、タカラの持って産まれた気質だ。とってもシャイなアラタを、タカラがリードしてくれることになり、いい影響を与えてくれるならいいが、対照的な二人兄弟を育てるのって実はもっと複雑?じゃなきゃいいけど・・・。


Everybody says shy Arata takes after Jason. And they go on "Takara is like you" because he is sociable. But however hard I try, I wouldn't be so extroverted. Considering rather quiet Jason's parents, Takara's got my dad's sociable gene.


We went to Christ church's Sunday's children services because they put up a bouncy castle inside.Of course it was Takara who ran straight to the castle while Arata was hesitating. Mana asked Arata, "Why do you not want to go?" but Arata kept quiet. Takara was happily jumping surrounded by big boys and Mana, who gave up persuading Arata to play with.


Arata was watching them for good 10 minutes and he started to join them but came back quickly. He kept doing go and come back for a while. In the meantime, Takara came out being led by 2 boys who were holding his hands because it's time for bigger kids and it may be dangerous for little ones to stay on. As soon as they released Takara's hands, he turned swiftly and went back to the castle...


When I started to feel relieved as Arata seemed to at last settle in, I realised Takara was missing! I then turned around found him on the stage. Live music started and Takara apparently abandand the castle and ran up to the stage. The band members were all kind and one of them let him play the drum later.


The bear who was giving out fliers of these services at the town square earlier came on yo stage and we all started to sing along the live music. Takara made up his mind quickly. He ran onto the stage again to touch the bear. Then he turned to us and started to swing with broad smile on his face!


I was shocked. Mana, who just turned 4, was worried and went up to the stage to take Takara down. But when I heard Arata screaming, "Oli has gone!!!!!" panickingly (he says this whenever Takara runs to somewhere from us), I decided to go up to get him, feeling a bit embarrassed....


This incident reminded me of another which happened a couple of weeks ago at Nicholas's birthday party. Children first gathered at a soft play area to play and later had a small party at cafe. When Jason arrived at the soft play area with Aratakara, Arata was a bit taken aback. While Jason was trying to persuade him to join other kids, Takara was already up and enjoying it happily. Arata then decided to give it a go seeing Takara was already there.


Arata never behaved like Takara so it's nothing to do with age but personalities. I hope Takara will ease Arata's tense when they go out together and helped Arata a bit. Is Takara going to give Arata a good influence? Or will it be difficult for us to bring up this kind of set of children???