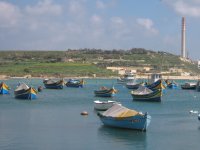 4泊5日でマルタに行った。忙しいプロジェクトが終わり、残業代も有給休暇も貯まっていたので、「子供置いていっていいよ」という優し~いJasonのおかげで、子供無しで行くつもりだった。

ところが最近のJasonの子育てからくるイライラがひどく、それ以上の計画を立てるのが憚られたため、「子供連れて行くから、家でゆっくりする?」とちょっと言ってみた。「いや、そんなこと言わないで、行っておいで」という反応を密かに期待していたのは日本人である私。Jasonは日本語は話すが日本人ではないって事、また、忘れていた。あっさりと決まり。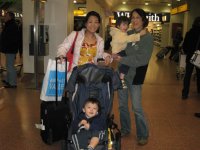 かわのが快諾してくれたのでアラタカラを連れて女2人で行く事にした。宿泊先にはキッズクラブがあるホテル

The Westin Dragorana Resort

を選んだ。

キッズクラブ

(Westin Kids Club)

は、宿泊客は無料で子供を何時間でも預けられる。2時間弱預けた初日は2人がおお泣きして呼び出されてしまったので、4時間預ける事にした日は、「ママとかわのは仕事だから」ということにして、「マルタバス」のおもちゃを買って上げる約束でアラタを説得。二人ともいい子にしていてくれた。チェックアウト前後にも預けたが、アラタは不満げで、タカラも30分以上泣き続けたので、ナーサリーに慣れているとはいえ、事前にきちんと説明して覚悟させないと難しいなあと反省。


夜は、子供を寝かせた後、ベイビーモニターの電波が届く場所にあるレストランのバーでゆっくりと飲む事もできた。ゴージャスなホテルのラウンジでのひと時は(電波が届かず)叶わなかったが、上出来?


日中の気温は15度以上で暖かかった。さすがに海にはまだ入れなかったが、室内プールやジャグジーを楽しんだり、バレッタ(Valletta)までローカルバスで観光に行き、大人だけでマーサシュロック(Marsaxlokk)のフィッシュマーケットまで足を延ばした。


かわのには大変お世話になりました。ありがとう!いろいろな場面で、1人ではどうにもならない事が多々あった。フライト中にはアラタと遊ぶだけではなく、トイレにまで連れて行ってもらい、タカラのお守りで手一杯の私は本当に助かった。旅行中一番の楽しみの食事がゆっくりできなかったのは、本当に申し訳なかったと思う。私にとってはいつもの事で慣れてしまっているため、事前に断っておく事を忘れていました。


私は、最後の晩に原因不明の嘔吐に襲われ、帰ってきても調子が悪い。シーフードにあたったのかなあ、それともストレス?


We went on holiday in Malta for 5 days. After a busy project at work, I earned enough over time money and I also needed to use up my annual holiday. As Jason has been busy at work, he at first told me to go without Aratakara. But he'd been under enormous stress from work and looking after children, I thought it'd be better for me to take children with me and give him his own time. (Well, to be honest, I didn't really mean it when I mentioned it because if Jason was Japanese, he would have said, "Don't worry, just go and enjoy yourself." And I was secretly hoping that he would say so. I again forgot that he is not Japanese! I often get confused as he speaks good Japanese!)


Anyway, thankfully, my friend Kawano agreed about taking Aratakara with us and we decided to stay in a hotel which has a Kids club in it. It's

The Westin Dragorana Resort.



We, hotel guests, can leave our children as long as we want at the

"Westin Kids Club"

free of charge. Fantastic! On the first occasion, we left Aratakara for nearly 2 hours but they were so miserable and kept crying, I was called back. So on the day we decided to leave them for 4 hours, I told Arata that mummy and Kawano were going to work. I promised to come to pick them up not too late, they usually stay at nursery for nearly 10 hours a day, and I told them I would buy toy buses, famous orange Maltese ones. It worked well and they were happy being there. But when I left them again while we were packing and checking out, for less than an hour, Aratakara were again unhappy. Takara kept crying more than half an hour. I learnt that I have to give them a proper reason to make them agree even though they are used to going to nursery...


In the evening, we could go out for a drink after the children went to sleep. The baby monitor I took there was very useful! Although we couldn't go to the gorgeous hotel lounge for a drink, as the monitor's signal couldn't reach, we found a bar at a restaurant just behind our room and we could relax there.


The temperature was over 15C and it was nice. Of course, it was too cold to dip in the sea but we enjoyed indoor swimming pool or jacuzzi. We went to Valletta on a local bus and Kawano and I made a trip to Marsaxlokk to see the fish market without kids one day.


I have to say really thank you to Kawano. Without her help, I couldn't have done it. Especially on the flight, she played with Arata and even took him to the toilet! I really appreciate it. I feel a bit guilty as I wasn't able to warn her that meal time would be the most difficult time, as I'm so used to it. She must have been shocked to realise that we couldn't eat peacefully at all.


On the last night till we came home, I had a terrible stomach problem and kept vomiting. Did I eat bad fish or was it because of stress?