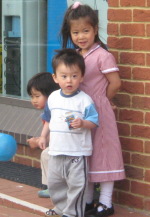 最近アラタに対して厳しい。タカラが・・・。


晩御飯の最中に、アラタが席をはずして、おもちゃで遊ぼうとしていると、タカラが椅子から下りて、アラタに合流かと思ったら、人差し指をアラタに向けて、「アラくん、ノー、できた」と言って今度はテーブルを指さした。(食事の用意が出来るとタカラは「できた!」と言って椅子に座るので、食事があるという意味。)その後少し意味不明後をペラっとしゃべってテーブルに戻ってきた。真面目な表情をしているので、アラタに真剣に注意しているようだ。


そして、夜の寝かしつけの最中に、アラタがベッドに横にならずにはしゃいでいると、タカラはやはりアラタに人差し指を指して「アラくん、ノー、ねんね、ここ!」


Takara has tried to discipline Arata recently.


When Arata left the table during dinner to play with toys, Takara also got out of his seat and joined Arata.... that's what I thought. Takara actually walked to Arata and pointed his index finger at Arata's nose saying, "Ara-kun, No! Dekita!" then pointed at the table. "Dekita" means something is done in Japanese and it's one of Takara's first words. He uses it when dinner is ready and I guess he wanted to tell Arata "we are having dinner."


He then kept saying something we couldn't make out, and came back to table. Surely, Takara was telling off Arata.


When I was putting them to bed today, Arata was still up and there was no sign of him going to sleep. Suddenly, Takara, who'd been lying but not asleep in bed, got up and went up to Arata. He said, "Ara-kun, No! Nenne ( = sleep), Koko ( = here)!", pointing his finger to Arata.