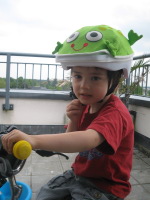 アラタはやっと、自転車をこげるようになった。ついこの前まではペダルを回すことができず、ギコギコ前後にこぐだけだった。ふと見ると、今日は出来ていた。トーマやマッツは2才になる前からできていたからアラタは遅い方。


いきなりスピードが出るようになったので、早速ヘルメットを買った。スパイダーマンとか、かっこいいキャラクター物のヘルメットもあるのに、アラタはなぜか「目があるでしょ!」と言って、嬉しそうに、カエルのヘルメットを選んだ。


月曜日はアラタの発育についてのフォローアップでJasonが病院へ連れて行った。体重は13キロ弱で、同年齢の中では最低のラインだけれど、増加しているので通院は終了。ただし、身長が平均から平均以下に下がっているので、こちらが要注意とされた。半年後にチャイルドクリニックで測定して、ヘルスビジターと話し合うようにとのこと。


自転車のペダルこぎや、ヘルメットの趣味と同じで、成長も「マイペース」なんだろうけど・・・。


Arata can now pedal a bike properly. He couldn't do it in the round motion and he was just pushing the pedals backwards and forwards, till only a few days ago. Today, I just saw him cycling properly in our balcony and I of course congratulated him! Well, Thoma or Mats started to do it before they turned 2, and Arata is not at all one of the athletic kids.


Anyway, as Arata can now go fast, Jason bought a helmet for him. There were lots of helmets with characters like Spiderman, but Arata chose a froggy one. He showed me the helmet when he came home and said proudly, "Look!, it has eyes!"


On Monday, Jason took Arata to St Peter's for the follow-up of his poor weight gain problem. He weighed nearly 13Kg then and as he's been gaining gradually, he was discharged. But the doctor is now concerned about his height. Arata was at around the average but now he is much below. The doctor told Jason that we should take him to child clinic in 6 months time and get him weighed and talk to a health visitor.


The same as his physical development like peddling, or his taste of helmet, his growth is also taking his own pace and we don't worry too much at the moment, though.