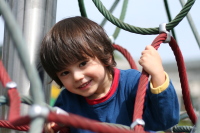 ちょっと前までは「女の子は好きじゃない」と言っていたのに、最近はまなちゃんと遊ぶのが大好き。そして、トマのことは相変わらず愛しているし、慣れていなくて敬遠気味だったマッツとも楽しく遊ぶ。ここ数日はジャマールと久しぶりに会ったが、それは楽しそうに遊んでいる。


1人で遊んでいると、ママのアディバに、「弟がほしい」とジャマールが言ったそうだ。この年になると遊び友達が必要なんだろう。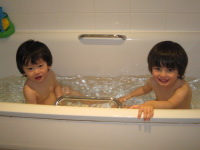 ジャマールは、アラタと同じ年だけど、学校に行き始めたので、おしゃべりも運動能力もしばらくの間にかなり上達していてびっくりした。そんな彼とも実はアラタも問題なく話せて遊べるんだという事を目の当たりにして、ちょっと安心。英語がわかるようになってきて、自信がついたかな。いいことだと思う反面、日本語があやふやになってきているのも事実。


Arata has been not so shy recently. He now likes playing with Mana. He used to say he didn't like girls. He of course still 'loves' Thoma, and he plays very well with Mats as well. In the last few days, we saw Adiba and Jamal twice and in both occasions, Arata happily played with Jamal.


Adiba told me that Jamal said, "I want to have a brother" when he was playing alone in the park. We think children of this age need friends at last. Jamal is the same age as Arata but he's already started school and his vocabulary and physical abilities have been improved very much while we didn't see each other for a while. Still Arata can play and talk with him without any problems. It was amazing for me. I didn't even know he was so good at speaking in English.


Probably Arata has now more confidence because he understands and speaks English comfortably. It's really a good progress, although apparently his Japanese is getting weaker....