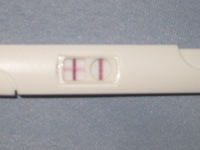 三人目を諦めることにした。


小さい子供を持つ母親として、決断は辛かった。実際は、自分で決心できなくて、運命に任せたような気さえしている。体力的、精神的に、今のままで一杯一杯だから、これ以上は無理だというのが私達が真っ先に思ったこと。この年齢で4年間に3人はどう考えても厳しい。決断までの3週間、男親のJasonは最後まで、意思を曲げなかった。これ以上の私達へのストレスと疲労が果たして家庭に幸せをもたらすのか、そして、強靭とはいえない私の体力はどうなるのか。母親の私は、日毎に高まる母性に混乱していった。


全てが終わり、予想以上のパニックに心が痛む。既に子供を持ち、安定した夫婦関係にある程、トラウマになり易いらしい。元気に走り回っている子供達と彼を重ねてしまい心が痛む。選択肢があっただけに、やっぱりできたんじゃないかという気持ち。納得していなかったのに、大切な事を自分でコントロールしてしまったと思う後悔。どうしてあの場から逃げなかったのかという自己嫌悪。友達には励まされた。運命は変えられないのだという事。自分でも気が付かない無意識下では答えはわかっていたのだという事。そうかもしれないし、そう思うしかない。彼が存在した意義は必ずあるという事を信じている。


We've given up another one.


As a mother of 2 young children, it was an extremely difficult decision. In fact, I wasn't 100 % sure what I was going to do. I didn't know what was the best for us. I couldn't decide. I just let it happen.


It was a surprise. But we were sad from the beginning. We knew it had already been too much for us with 2 little boys. We have been stretched to our limit physically and mentally. How could we cope with another one? I've already had 2 pregnancies at my age. And how could I survive another one, considering my age?


Jason had been consistent with his decision throughout the 3 week. He believed it was the best thing for us as a family. But for me, my maternal instinct grew stronger day by day and I got more and more confused about what I wanted to do.


After everything was over, I couldn't control my emotions. My heart really ached and I was in an uncontrollable panic. I can understand why women who are in a stable relationship with children have higher risk of post traumatic depression, when they have been through the same experience.


We overlap this little one with other children. We can remember and sense very well how we felt when we were carrying other children. How on earth could we allow such a terrible thing happen to him? How unfair was it to him? I could have done it, I could have done it. Why did I not escape and saved him? Why did I dear to control this little life when I wasn't confident what I was going to do...


My friends have helped me throughout this ordeal. One says we can not change fate and I didn't go against the flow of water. Other says I probably knew what was the best for us deep down, underneath of even my consciousness. They may be right. And all I can do is to believe them. At least I believe his existence has a meaning for us.