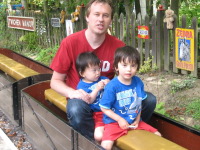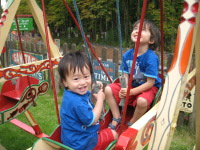 ナップヒルのミゼンズレイルウエィの

テディベアピクニック

へ行った。以前行ったのはアラタが2才になる前のクリスマスイベントで、この時は

アラタは怖がって泣いた。

今日はもちろん大丈夫だった。アラタもタカラも、あちこちでやっているテディベア達のピクニック(膨大な量のぬいぐるみが線路の周りに置いてある)を見つけるたびにキャーキャー騒いでいた。英国らしい昔ながら(そして環境に優しい?)の「人力」シーソー&回るブランコも大喜び。


We went to

Teddy bears Picnic

in Knaphill.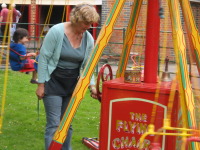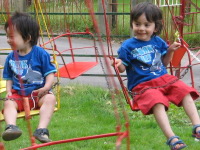 It was just before Arata turned 2 when we went there for the first time for their Christmas event. At that time, Arata was so excited but soon after he got on the train,

he started to cry and didn't stop.

But of course, this time, he was absolutely ok and, as expected, Takara was so happy. Whenever they found teddies or any sort of soft dolls having picnic, they pointed at them and screamed! Aratakara also enjoyed very British, environmental friendly, man-power see-saw and roundabout swings!