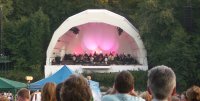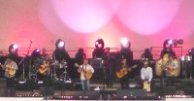 昨日は夕方から、恒例のハムステッドヒースのピクニックコンサートへ行った。昨日の出演は、私はカナダ時代以来気に入っているジプシーキングス。天気も思いっきり好く、最高のピクニック日和でもあった。Toshさんたちは先に行って場所取りをしてくれていたので6時ぐらいにのんびりと行った。


新しい曲がメインだったが、彼らの曲は似ているのであまり違和感がない。それでもやはり、定番が流れると、みんな立ち上がって踊りだして、歌いだすのだが、所詮、スペイン語だから、さびの部分しか歌えない。どうやらそれは私だけじゃなさそうで、大半の人がそうみたいで、可笑しかった。このコンサートを元にDVDを作成するらしい。



コンサート中は私も音楽に合わせて体をゆらゆらさせていたので気がつかなかったが、帰りの電車の中のお腹の中は大変だった。ぼん、ぼん、って10秒ごとくらいに蹴り続けるので、そのたびに、相変わらずくすぐったいから、「わっ」と奇声をあげながら大騒ぎしていた私だ。赤ちゃんはどうやら、踊り続けていたらしい。すみよちゃんには「この音楽、胎教に悪いんじゃない?」って言われたが、ラテン系もまた良しという事にしよう。


We went to a Picnic Concert at Hamstead Heath yesterday. It was Gypsy Kings night, actual Gypsy Kings were there. I started to like the group when I was in Canada but it was the first time to go to their concert. The weather was marvelous and it was a good picnic day! Tosh san and the others were there early and we went to the Heath at about 6 o'clock. It was still quite hot on our way....



The Gypsy Kings played/sang mostly new songs. But as all of the tunes are quite similar in their music, I did not feel left behind. But when they played their well-known pieces, of course, the crowd stood up, danced and sang along. It was quite funny that most of the crowd could only sing the main tunes. It's same as me! After all they sing in Spanish. They are going to produce a DVD based on this concert.



During the concert, I was also dancing or moving my body and I probably did not realise this. But on our way home, in tube, our baby was out of control! He kept kicking me every 10 seconds. As I am still not used to the ticklishness, I jumped and screamed each time. The baby must have been dancing all the time. Sumiyo told me that this kind of music is probably not good for the fates music education. Well, Latin music will be one of our baby's collections.