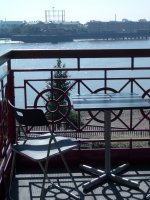 ここ数日調子がいい。お腹も痛くないし、食欲も旺盛で、特に、甘いものが食べたくなったりするから不思議だ。お腹と胸のかゆみは、例のクラランスのオイルが効いているのか、暑くて腹帯をしていないからか、どっちか不明だが、とにかく治まった。ただ、当然、うつぶせには寝られないし、仰向けに寝てしまうと、しばらくしてお腹の重みで下腹部が痛くなるので、横向きに寝ないといけない。これが少しつらい。横向きに寝ると、背骨がまるまるから、寝苦しいし、朝起きると腰が少し痛いのだ。あー、思い切りうつぶせに寝たい!


最近赤ちゃんのキックが強くなってきた。昨日の朝はお腹を見ていると、赤ちゃんが動くのがわかると言うことを発見。Jasonも喜んでいた。こうなってくると楽しい。ベッドの上で、左向いて、右向いて、そして仰向けになってしばらくすると赤ちゃんがよく動く。揺すって寝ている赤ちゃんを起こしているってことかしら・・・。


昨日今日ととにかく暑い。夏に逆戻りで30度近くある。バルコニーで朝食なんて、暑すぎてできないぐらいだ。昨日は川野が遊びに来た。一緒に CanaryWharfのRoyalChinaに飲茶に行く。外のテーブルで食べるが風が吹くと気持ちがいい。その後、うちで少しおしゃべりして帰ったが、友達が来ると家の掃除をいやでもするので、今日は部屋がきれいで気持ちいい。
I've felt very well in the last couple of days. I have a good or rather big appetite for the first time. What's more, I feel like eating something sweet. The itchiness of my breasts and tummy seem to have gone away. I'm not sure that Clarince oil is really working or as I stopped wearing tummy belt, which may have caused too much warmth and itchiness. But sleeping is a big problem now. I usually prefer to sleep on my back or tummy. Of course, I can not sleep on my tummy now. Sleeping on my back causes some abdominal pains after a while because of the heaviness of the bump, although I sometimes do it unconsciously. Only the good position is sleeping on my side. But this is also not quite comfortable. When I sleep on my side, my spine gets bent, which causes a slight back pain. So I keep waking up at night. I wish I could sleep on my tummy!!!



The baby's kicking has been getting stronger. We discovered that we can see the kicking from outside. Jason is thrilled about this! Me too! When lying down, I turn my body left, right and flat on my back. After a short while, the baby starts to move and we can observe it. Well, I forcibly wake the baby up???



It's been really hot since yesterday. The temperature is nearly 30 C. It's even too hot to have a breakfast at balcony. Yesterday, Kawano came round and we went to have Dim Sum at Royal China in Canary Wharf. We had a table outside and when breeze was blowing, it was so nice. We then spent another couple of hours chatting at our flat. It's really a good thing to have some visitor as I do cleaning. Our flat is really clean now and I feel so comfortable.