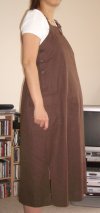 金曜日は予定通り大石さん、川野と日本食屋の「但馬亭」へ。てんぷらなんてあまり好きでなかったのに、またてんぷらが食べたくなった。妊娠後期のクレイビング?


ところで、大石さんに妊娠のニュースを打ち明けて驚かそうと企んだが、完全に見破られてしまった。テーブルに速攻で着いて、お腹も見せないようにしたが、普段薄着でぴったりしたTシャツを好む私が、だぶだぶの服やハーフコートを着て登場したのでばれてしまったらしい。彼は一児の父だから経験もある。奥さんも妊娠中は似たような妊婦服を着ていたって。「予定日は12月ぐらいか?」と、そこまで読まれてしまった。

私が以前、子供はほしいけど高齢だしチャンスがなかったら・・・、って言っていた事を彼はよく知っているから、大変喜んで、お酒もすすんだようだ。高齢とはいえ、妊娠しにくかったり流産を繰り返したわけでもないから、このまま健康な赤ちゃんが産まれるよと言っていた。

大石さんの一人息子、けんちゃん(11歳?)も日本とガーナのハーフだ。イギリスに住んでいるから英語が母国語だが、最近続けて日本に連れて帰ったことで、彼自身感じるところがあったらしく、日本語を勉強したいと言い始めたそうだ。バイリンガル教育にはそういう手もあるなあと参考になった。



I went to a Japanese restaurant 'Tajimatei' yesterday with Oishi san and Kawano. I'd never fancied Tempura but I wanted have it again yesterday.... It must be a craving in the third trimester?




Kawano and I were planning to surprise Oishi san by my pregnancy news. But no chance to win! He could immediately tell that I was pregnant. I was in 'the' Japanese maternity clothes. He told me that I never worn such loose clothes or even worn a coat on rather warm day. Well, I usually prefer tight T-shirt type clothes. and wearing light. He anyway has experience. He has a son. He told me that his wife was wearing something similar when she was pregnant. He even said, 'Is the baby due in December?'



I would tell Oishi san that I wanted to have children but my time was running out. So, he was so delighted with the news and he drank a lot of Sake! He told me that I will have a healthy baby because it was quite easy to get pregnant regardless of my age, without infertility nor repeat miscarriages.



Oishi san's son, 11 years old?, is also a half Japanese and a half Ghanan. Of course, his first language is English. But after having visited Japan for a couple of time recently, he started to tell Oishi san that he wants to learn Japanese. Good tip from Oishi san for our baby's bilingual education.