20週目に撮った超音波写真を見た時、赤ちゃんの頭の形はJasonの遺伝だと思った。と言うのも、おでこから頭のてっぺんにかけて斜めになっている変わった形をしてるからだ。初めは、赤ちゃん、脳みそが入るところが少ないんじゃないの、大丈夫かしらと思ったが、よく見るとJasonもおでこが斜めになっている。


ところがその後インターネットで同じ週ぐらいの白人の赤ちゃんの超音波写真を見てみると、ほとんどの赤ちゃんの頭は真ん丸いのだ。そういえば、白人の赤ちゃんの顔って、昔日本で売り出したけど全然売れなかったキャベツ人形みたいに真ん丸だ。


ということは、もしや日本人の形なのかしら・・・と日本人の超音波写真も検索してみると、なんと、私たちの赤ちゃんの写真とそっくりなのがいくつも見つかった。やばいいなあ・・・日本人顔?私の赤ちゃんの時の写真まで取り出してみる。うーん、私のおでこも斜めのようだが。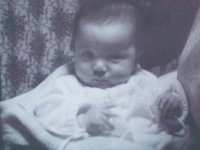 明後日は28週の超音波検査がある。もう一度写真を貰ってきてよく見てみようと思う。ついでにもう一度男の子か確認してもらおう。まあ、早く本物を見てみたいよ。


(写真は私の赤ちゃん時代)


When I saw the baby's ultra sound photo of the 20th week, I thought the shape of the baby's forehead was from Jason. Because it is not flat but a bit slanting towards the top of the head. I thought it was really strange shape and I was worried if the baby did not have enough space to fit the brain! But when I looked at Jason's forehead, it's also slanting.



We checked Internet to see the ultra sound photos of the 20th week baby and found Caucasian babies have round shaped head. They reminded me of the American baby dolls which were sold in Japan when I was child. They were called 'Cabbage dolls' because the baby's head was like a cabbage. It had been said that the dolls were sold very well in the US but it was not successful in Japan. We all knew why. Those dolls were not realistic for us and we did not think they were cute. Well, it's like this, Caucasian babys' have round shaped head.



Does it mean that our baby has Japanese forehead? I pulled out my old photo which was taken when I was a baby. Surprisingly, my forehead was also like a slope. Our baby has oriental structure....





I am having the 28th week ultra sound check-up the day after tomorrow. I will get another photo and need to study it carefully! I also want to confirm if it is really a boy. After all, I want to meet our baby soon.....


(Do you recognise who the baby is in this photo?)