28週検診に Jason と Royal London Hospital へ。頭や胴体の直径などを測定、心臓、腎臓など内臓器官もチェック。異常なし。胴回りだけなぜか何回も測定していたが、どうやら28週の赤ちゃんの一般的な大きさの範囲の上限ぎりぎりだったから念入りに調べたらしい。お腹の成長が他の部分よりちょっと速いだけで、他の部分もすぐに追いつくだろうとのこと。ばかでかい赤ちゃんになると決まったわけではないと言われた。胴回りが大きいなんて、Jason に似たか・・・と思ったが、「俺は赤ちゃんの時は細かった」と Jason は反撃していた。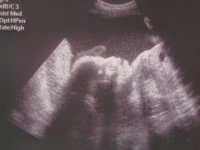 きょうの超音波技師はすっごくきれいなお姉さんだった。赤ちゃんは、スクリーンの方、すなわちお姉さんの方に向いて、頭が上、足は下のほうに伸ばしている状態だった。念のためもう一度性別を確認してくださいと言うと、そのきれいなお姉さんは、けたけたっと笑って「間違いようはないわね」と言って、スクリーン一杯に男の子である証拠を映してくれた。うーん、ちゃんと形になってる。りっぱだ・・・・。きれいなお姉さんをみて興奮気味か・・・。


その他、赤ちゃんが羊水を飲んだりしているところも見せてくれた。口をぱくぱくしている。生まれた後の咀嚼の練習をしているそうだ。


超音波写真は、このぐらいになると、赤ちゃんが大きくなってしまい画面に入らなかったり、動くのでうまく撮れないらしい。一応一枚もらってきた。あまりはっきりしないが、今回の写真だと、頭が丸い・・・。外人顔かなあとちょと期待。口を開けている写真だ。



We went to the 28th week ultra sound check-up. The baby was measured the sizes of his head, body etc and checked the heart and kidneys. All normal. We were told that his tummy size is on the big side of the average. 97 % of the babies fall into the average category but our baby is just below the highest limit. Probably the body grew faster than the other parts of the body and the other parts will catch up soon so not necessarily to have a huge baby, the technician said. Around the tummy is huge??? I thought the baby takes it after Jason. But Jason defended saying, ' I was thin when I was child!'



The technician today was a beautiful young woman. During the screening, our baby was facing to her in breech position, stretching his legs. I asked her to double-check the sex of the baby. She then giggled a bit and said, 'No hiding!' On the screen, we saw the baby's willy in full screen! Well, it's very good shape! He seemed to be a bit excited, probably, because he was examined by a beautiful young female technician!



We also saw the baby opening and closing his mouth repeatedly. He was practicing swallowing and chewing (?) for after coming out to the world.


We asked for a photo of the baby. In this stage, baby is too big and active to fit in the frame to be a good shot but we got one anyway. It looks a bit blur, but the moment the baby was opening his mouth. The head looks much rounder than before.