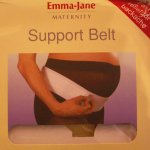 昨日はJohn&Lewisで買った英国製の腹帯(9.95ポンド、約2000円)を巻いていた。マジックテープがついた伸縮性のある腰痛防止ベルトで、スーツケースに巻くベルトみたい。これしか売っていないからしょうがない。まあまあ快適のような・・・。産後ガードルなんてものも日本にはあるようだが、英国にはない。


ゆきちゃんが会員のホールセラーCostcoへ。まとめ買いで食品から電化製品まで安く買える。一緒に行った川野と私は興奮気味。隅から隅まで見て買い込んだ。私はオムツを捨てる袋とベイビーワイプも買う。ASDAも赤ちゃん用品が安いということで立ち寄り、PampersのNo.1紙おむつ一袋と授乳パッドを購入。生まれて初めて買うおむつだ!少しずつ準備を始めている私達。でも、私もJasonもいい加減だから、CostcoとASDAでどっちが安いのか結局値段を覚えてなくてできない・・・。ところで、紙おむつのサイズが赤ちゃんの大きさに応じてNo.1から番号が振ってあるということを今日初めて知った。


ジョージから電話あり(マレーシアンチャイニーズの)。彼も3ヶ月前に男の子のお父さんになったばっかりだ。Kentに住んでいるので、一度遊びに行きたいと思う。


I was wearing a British made bump belt (9.95 pounds) first time yesterday. It's just a stretch belt with magic tapes to fasten. Quite like the belts we use on suitcases.... But this is the only product in this country. With the support of this belt, I feel much better. In Japan there are more gadgets like the support underwear from immediately after your birth to put your body shape back etc. But nothing similar can be found here...


We also went to the wholesaler COSTCO with Yuki and Kawano. We can buy anything, in bulk of course, for lower prices. Kawano and I were really excited and visited every single corner of the store and bought a lot. I bought nappy bags, which are used to throw away nappies, and Pampers nappy wipes. We went to ASDA as they also do baby things and I bought our baby's first nappy, a packet of Pampers No.1 disposable nappies, and breast pads. Jason and I were supposed to compare which is cheaper at COSTCO or ASDA? But both of us are useless. We can not remember the prices..... I've learnt something new today. Nappies are numbered according to its size and we choose the right number based on the baby's weight.


George, one of my many Malaysian Chinese friends for a long time, rang me yesterday. He had his first son born 3 months ago. He and his wife live in Kent now. We have to visit them soon!